Jump to Recipe
If you're looking for a rice krispies treat recipe without all the extra sugar, this is the one for you. There are literally tons of rice krispies treats recipes on the internet with one thing in common – Marshmallows! Now, don't get me wrong. As much as I like to have marshmallows every once in a while in my hot chocolate, i am conscious of how high in sugar they are. My Chocolate Peanut Butter Rice Krispies Treats are so delicious, with each layer melting in your mouth with every bite. It also contains less sugar and no marshmallows. This totally eliminates the worries of having hyperactive kids running around on sugar highs after having a treat like this 🙂
These are also no cook/bake, and is set and ready to enjoy in less than an hour. Plus, they are super fun to make with the kids!
5 Ingredients in these Rice Krispies Treats:
You only need 5 ingredients to make these yummy Chocolate Peanut Butter Rice Krispies Treats:
Rice Krispies Cereal – The No.1 main ingredient is good old Rice Krispies Cereal.
Maple Syrup – For sweetness, we'll add in one or two tbsp of maple syrup. Adjust to taste.
Virgin Coconut Oil – Virgin coconut oil is extracted by cold compression. Which basically means it is extracted without the application of heat. It solidifies in cool temperatures below 25C, which will help our Rice krispies treats set in the fridge or freezer.
Peanut Butter – We will be filling in the rice krispies cups with peanut butter. If you have a nut allergy, you can substitute the peanut butter with sunflower seed butter.
Chocolate – The treats have 3 layers. Rice Krispies at the bottom, followed by a good dollop of peanut butter. Melted milk or dark chocolate will be the very top layer. Please note that each layer has to set in the freezer before adding on the next layer.
Tips for a Successful Outcome:
Melting the coconut oil until it is slightly warm (not hot), will help the rice krispies absorb some of the oil. This will bind the rice krispies together when cooled or frozen. If you skip this step, the oil will sink to the bottom of the cupcake tin and become a solid layer of coconut oil. The rice krispies treats will also fall apart.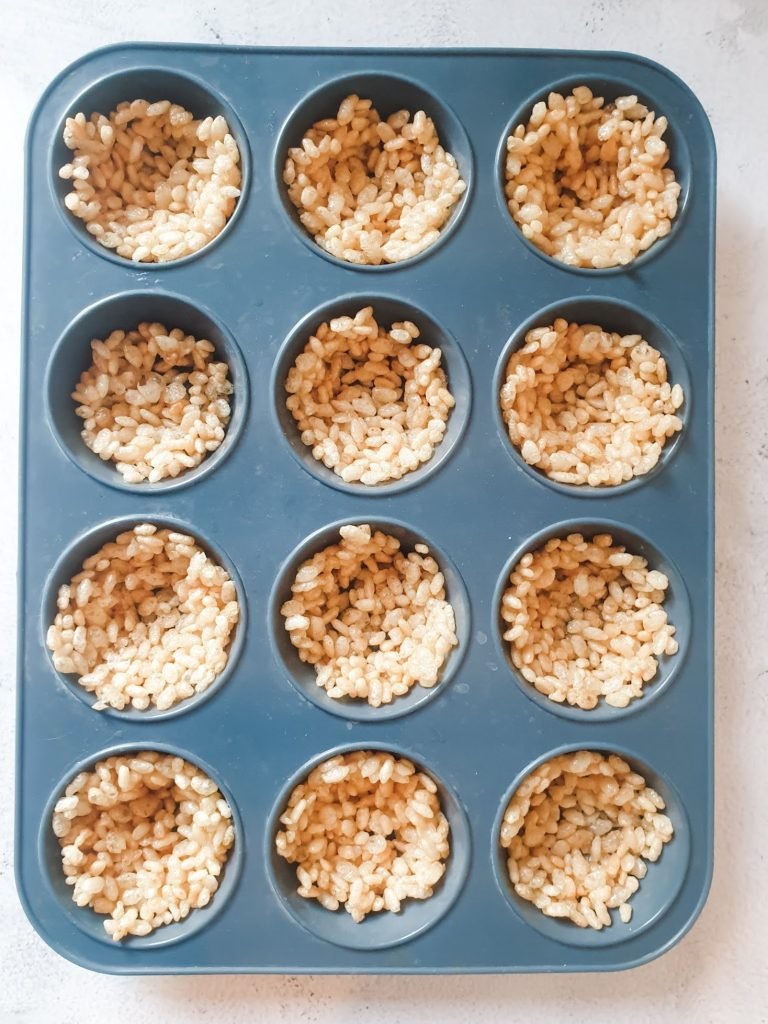 It's important that each layer sets before adding in the next layer. Melting the peanut butter slightly in the microwave for about 30 seconds makes it easier to scoop into the rice krispies cups.
Place in the freezer for 15 minutes or until set. Then pour in the melted chocolate. Place in the freezer again until the chocolate solidifies. The entire process might seem a bit lengthy and could get a bit messy, but it definitely tastes delicious and is so worth it.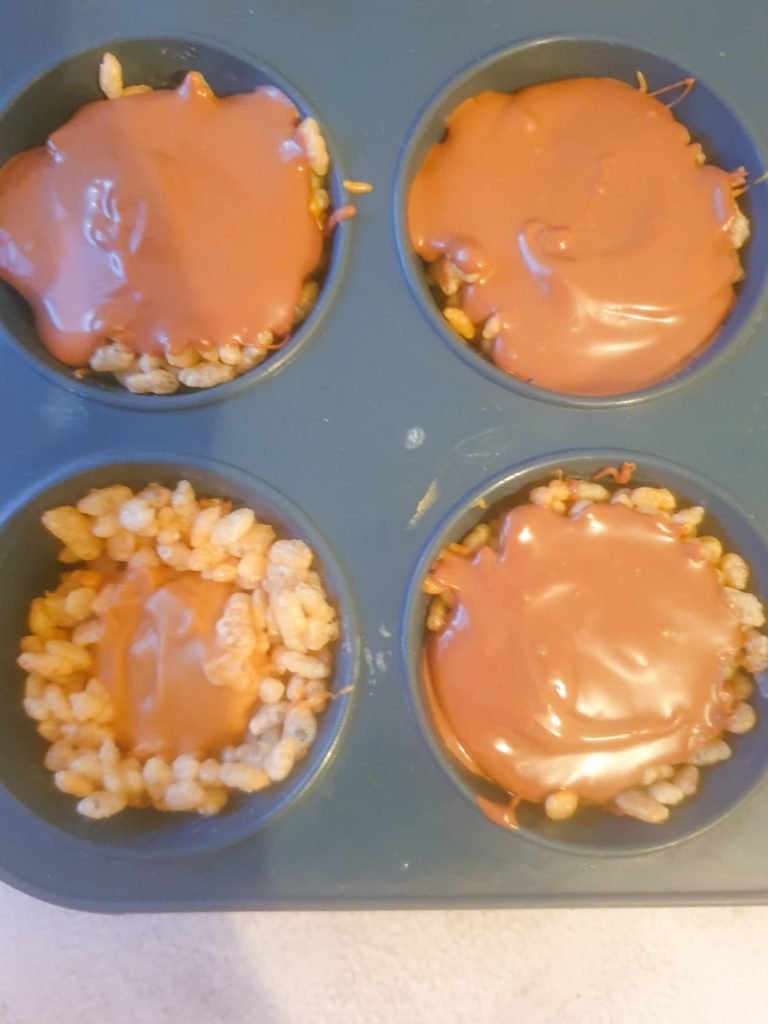 Chocolate Peanut Butter Rice Krispies Treats
Super Indulgent Peanut Butter Rice Krispies Cups!
Ingredients
2 Cups Rice Krispies
1 Cup Chocolate (Melted)
2 tbsp Virgin Coconut Oil
½ Cup Peanut Butter
1/2 tbsp MapleSyrup (Adjust to taste)
Instructions
Melt the coconut oil until it is slightly warm (not hot).

Mix melted Coconut oil and maple syrup in a bowl

Add in rice krispies and let it sit for 15 minutes (Do not skip this step). This is so the rice krispies can absorb the coconut oil.

Mould the rice krispies into a greased/ lined cupcake tin. Pressing down firmly.

Place in the freezer for 15 minutes, or until solid.

Pour in the melted peanut butter.

Freeze for another 15 minutes until solid.

Add top layer of melted chocolate.

Place in the freezer until the chocolate has set.

Serve and Enjoy.
If you're looking for a quick and easy treat, have you tried our Super Healthy Granola Bar Recipe – Cranberry Banana Flapjack?