Jump to Recipe
When i think of a parfait, the french way of making it comes to mind. A frozen dessert made from egg yolks, cream and sugar. Served with layers of fruits, fruit purees and nuts to create a delicious and stunning parfait you'd fall in love with. If you haven't already. This apple pie french parfait recipe is sure to impress. The rich mousse texture of the parfait, coupled with the delicious stewed cinnamon apples and the crunch from the crushed biscoff biscuit tastes soooo good and screams delicious apple pie in a jar.
The french parfait layer does take a bit of time to set, but is totally worth the effort. if you're looking to make this recipe in less than an hour, keep scrolling to my parfait layer alternatives below.
There is also the American parfait. Several layers of yogurt, whipped cream, granola, fruits, fruit purees or other ingredients. Served in a glass as breakfast or dessert. This version can be made healthier and is way quicker to put together.
I like the mousse texture of the french parfait rather than a more frozen solid texture and prefer to leave to set at the back of the fridge rather than in the freezer. However, if you love a frozen dessert, leave the jar to set in the freezer, take it out and layer with some apples, whipped cream or some more parfait before serving.
All you'll need to make this Apple pie parfait recipe
Apples– Whichever variety you like. I used Gala apples.
Cinnamon – To add flavour to the apples.
Honey – To sweeten the cooked apples. You can also use maple syrup or golden syrup if you like it slightly sweeter.
Egg yolks – For making the parfait
Icing Sugar – To sweeten the parfait
Whipping Cream – Double cream works well too
Vanilla Extract – To flavour the parfait.
Biscoff Biscuit – For the added crunch as a crumble layer. Feel free to substitute with any biscuit you like. Plain Digestive biscuit and Oaty Hobnobs works really well too.
Extra Toppings of Choice – I've added biscoff fudge toppings as seen in the pictures. You can add any extra toppings you like such as Granola, salted caramel or whipped cream.
An alternative for the parfait layer
If you would rather save time and prefer not to make the french parfait recipe, i've got you!
Here are a couple of options that work really well:
Whipped Cream Parfait Layer – Simply whip together 150ml double cream, half a tsp of vanilla extract and 15g Icing sugar to form soft peaks and use this as your parfait layer.
Yoghurt Parfait Layer – Mix together yoghurt, cinnamon and sugar/ honey for a healthier parfait layer.
Cream Cheese Parfait – Whisk together 100ml whipping cream, 1tsp Vanilla extract and 40g of Icing sugar to form soft peaks. Fold in 80g Soft Cream cheese.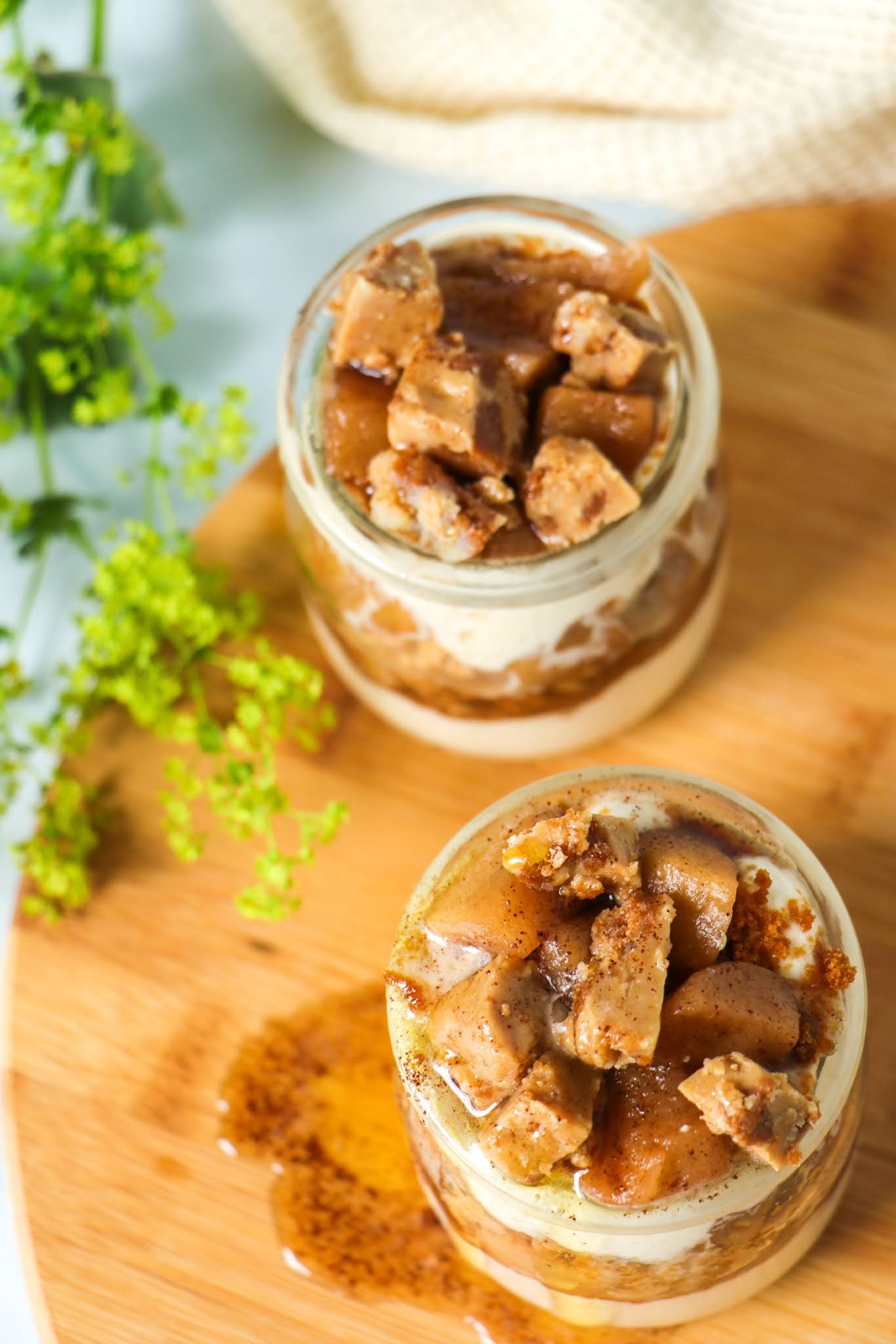 If you're looking for more dessert recipes, why not give our Chia Seed Chocolate Mousse Pudding Recipe a try!
Print Recipe
Apple Pie French Parfait Recipe
Servings: 2
Ingredients
For the Parfait
2 Egg Yolks
50g Icing sugar
100 ml water
150 ml Whipping cream /Double cream
1 tsp Vanilla Extract
For the cooked cinnamon apples
2 Apples – Peeled, cored and cut in small cubes
1 tsp Cinnamon
5 tbsp water
1 tbsp Honey / Maple Syrup / Golden syrup
For the Biscoff Crumble
4 biscoff biscuits crushed
Instructions
To make the Parfait
Start by placing a mixing bowl in the freezer for 30 minutes before you start making the parfait.

In another bowl, whisk the egg yolks until they turn a pale yellow colour.

Add the sugar and water to a pan and bring to boil – or until it reaches a temperature of 120°C

Slowly pour the sugar mix into the yolk, stirring to combine.

Once the yolk mix has cooled, whisk until it doubles in size.

Now, take the mixing bowl out of the freezer, pour the cream and vanilla extract into the bowl and whisk until it forms soft peaks.

Fold in the yolk mixture until well combined. Transfer into jars and freeze for at least 4 hours.
Cooked apples
Peel and core the apples, then cut into small cubes.

In a pan over medium heat, pour in the apples, cinnamon, water and honey/golden syrup

Cook the apples for about 10 minutes or until soft.

There will be some leftover cinnamon syrup from the cooked apples, drain into a small jar to drizzle on the parfait later.
Crushed Biscoff
Crush 4-5 biscoff biscuits – or any favourite biscuit you like.
Assemble the Apple Pie Parfait
Scoop a layer of parfait into the glass, followed by a layer of cooked apples and crushed biscoff

Repeat another layer.

Top with some whipped cream, cooked apples and drizzle some of the cinnamon syrup leftover from the cooked apples.