Jump to Recipe
This Korean corn cheese recipe is my take on the classic and delicious Korean corn cheese. We have made the original version (pictured below) so many times and have fallen absolutely in love with it. I'm sure you all know by now that my blog focuses on quick recipes. I love good delicious food without the stress. Which makes this recipe perfect if you're looking to whip up a quick dish with minimal effort. It is super easy to make and comes together in less than 30 minutes.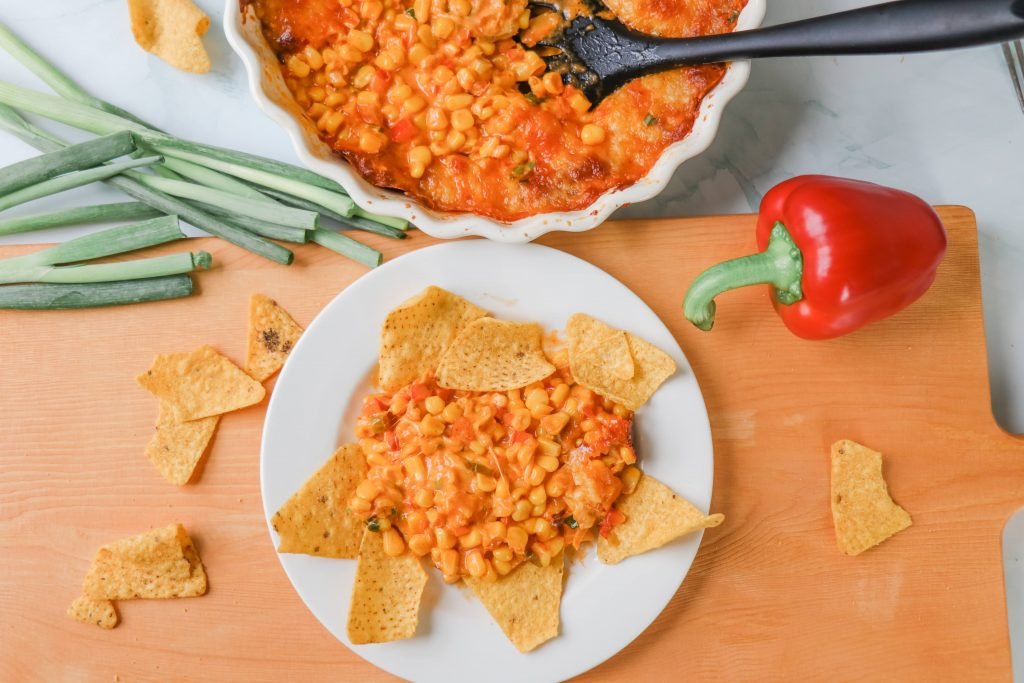 Perfect served as a side dish, you'll make this dish over and over again once you discover how quick and delicious it is. We make Korean corn cheese regularly on fridays for our family movie nights served with some tacos. Absolutely Yummy!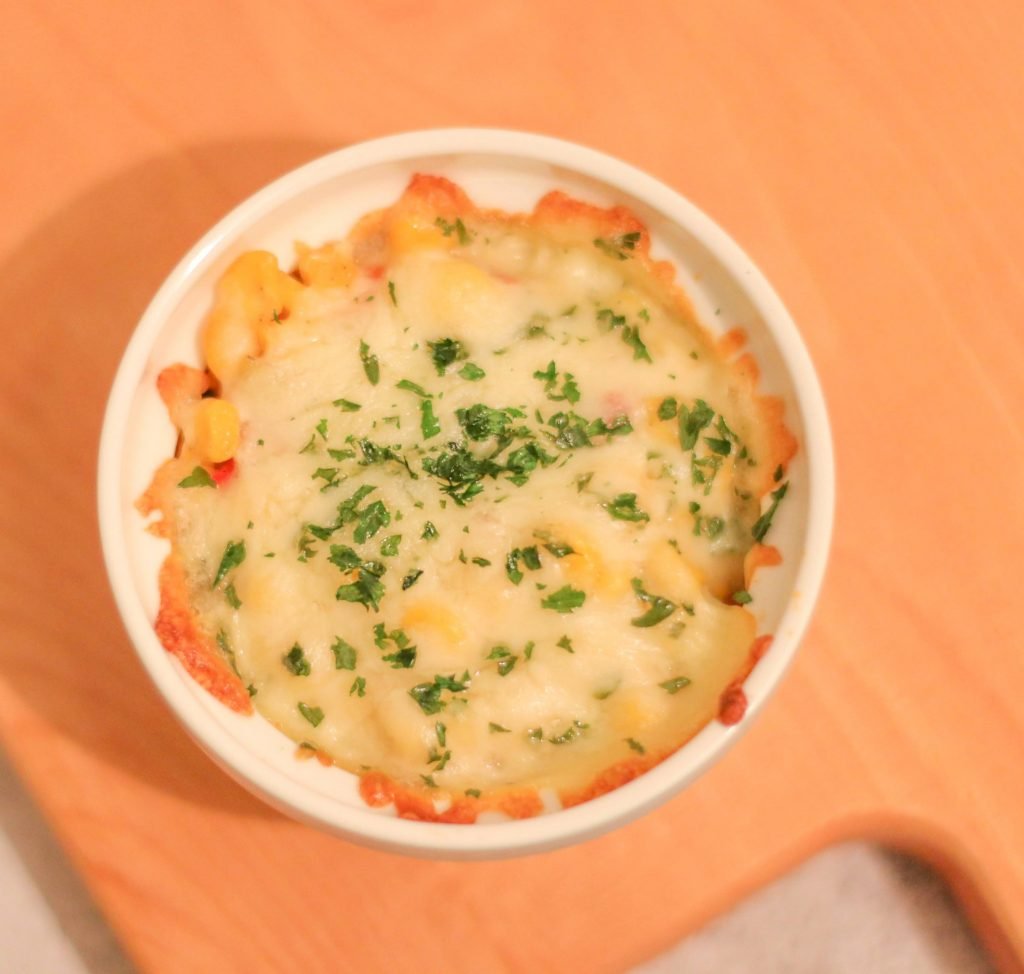 Ingredients for Korean Corn Cheese
Even though i've modified the original recipe for a creamy spicy version, the main ingredients pretty much stays the same. Stick to the main ingredients below if you would like to make the original korean corn cheese recipe. You'll need:
sweet corn
I use frozen sweetcorn most times when making this dish. However, canned sweetcorn or fresh corn works really well too. When using frozen sweetcorn, it is best to defrost the corn in the microwave for a few minutes before adding in the other ingredients. It helps to reduce the cooking time. Also make sure to drain the water in the canned sweetcorn before using.
I usually go for the supersweet sweetcorn which is why i don't see the need for adding sugar in this dish. However, if your corn isn't naturally sweet, you should add in some sugar to get the desired sweetness which complements the cheese perfectly.
MAYONNAISE
Mayonnaise is an important ingredient in this korean corn cheese recipe. It gives the sweetcorn the creaminess and slightly tart taste. I prefer to use full fat 'real' mayonnaise for the richer taste and thicker consistency you get in comparison to the lighter low-fat version.
SCALLIONS / SPRING ONIONS
Add in some spring onions for a milder onion flavour. Dice the spring onions and throw in with the other ingredients. You can also garnish the corn cheese with some of the green onions or some parsley before serving.
MOZARELLA CHEESE
Korean corn cheese isn't complete without some mozarella cheese. Mozarella cheese is a creamy cheese with a milder flavour compared to other cheeses. The creaminess of the mozarella cheese, mayonnaise and sweetness of the corn comes together perfectly to make this dish simply irresistible!
butter (optional)
If you're looking to take this dish to the next level of creaminess, add in 2 tbsp of unsalted butter. Melt the butter in a skillet or in the micorwave before adding it in.
SUGAR (optional)
I use sugar in this dish only when my sweetcorn just isn't sweet enough. If you need to add in sugar, I would recommend a tbsp of brown sugar for every 2 cups of corn.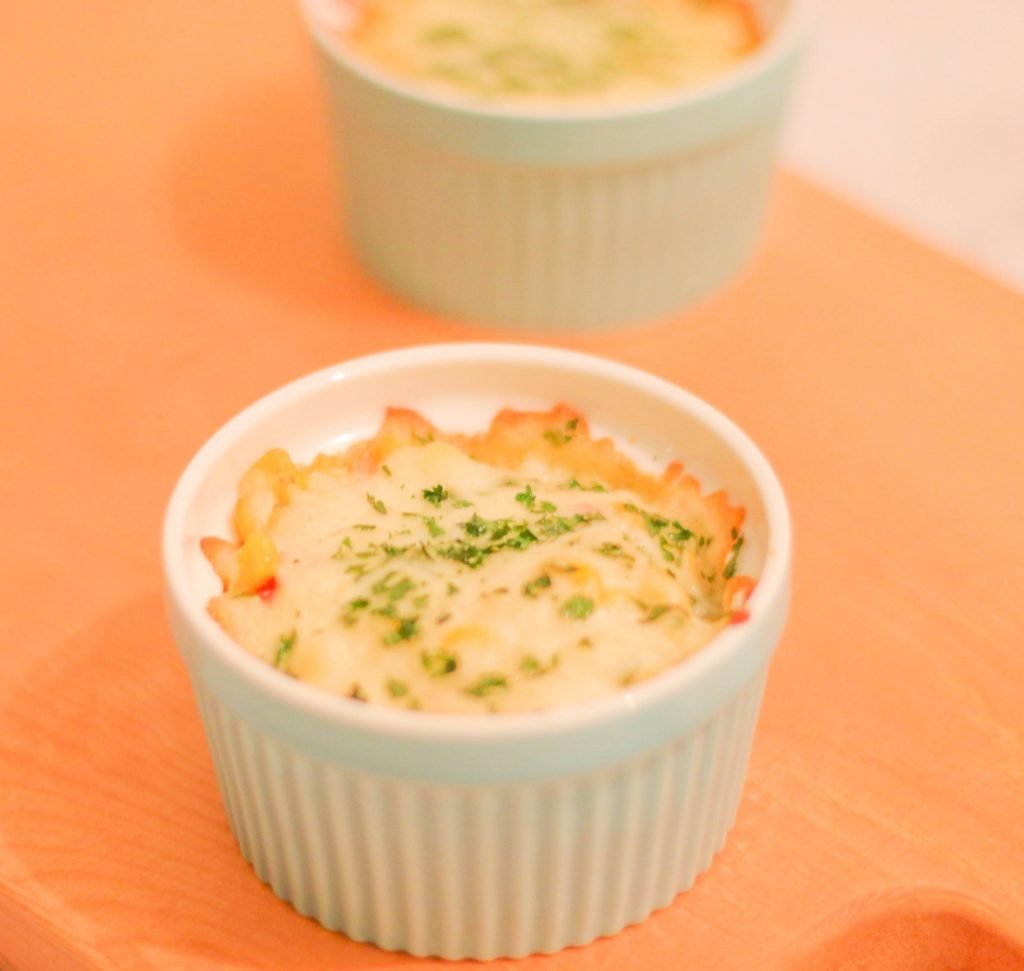 OTHER INGREDIENTS (for the spicy version):
Red Bell Pepper
Sriracha Sauce
Paprika
Chilli Flakes
Two ways to cook this dish:
I find that the quickest and no-hassle method of cooking this dish, is to mix all the ingredients together and let it cook in the oven.
However, if you don't have an oven (see notes below), you can make this Korean corn cheese recipe in a skillet on the hob.
Melt the butter in a skillet, add in the green onions, bell pepper and sugar (if using). Stirring often.
Then add in the sweetcorn and other ingredients and mix until combined.
Cook for 5 minutes.
Top with some cheese and cover until the cheese melt.
Garnish with some parsley or spring onions and serve immediately.
Looking for more quick and easy side dishes? I highly recmmend our Oven Baked Plantains Recipe
Korean Corn Cheese Recipe – With a Twist
Servings: 4
Ingredients
3 Cups Sweetcorn
1 cup Mayonnaise
1½ tbsp Sugar (to taste – if corn isn't naturally sweet)
Pinch of Salt
2 tbsp Unsalted Butter (melted)
2 Sping Onions (Finely diced)
1 tbsp Paprika
1 medium sized Red Bell Pepper (Finely diced)
1 tsp Chilli Flakes
1 tbsp Sriracha Sauce (Optional)
150 grams Mozarella Cheese
Instructions
Preheat your oven to medium (gas mark 4/180°)

Melt the butter and sugar (if using) in the microwave, or in a skillet on medium heat

In a bowl, mix together the mayonnaise, sriracha sauce, paprika, chilli, spring onions and diced bell peppers.

Then add in the melted butter.

Mix in the sweetcorn, stirring until well combined.

Transfer half of the corn mixture into an oven dish, then layer with half the mozarella cheese.

Add the second layer of corn, top with the rest of the mozarella cheese.

Transfer into the oven and let it bake for 15-20 minutes until the cheese has melted and is golden brown

Garnish with some spring onions or parsley
Notes
If you don't have an oven, you can also cook this dish in a skillet on the hob.
Mix all the ingredients (minus the cheese) and transfer to a skillet.
Add the cheese topping and set your hob to medium heat. 
Cover to melt the cheese and then garnish with some spring onions or parsley.