Jump to Recipe
Do you have one of those busy mornings, where there just isn't enough time to sit down for some breakfast before heading out to work? I have those mornings sometimes. But I've never had to skip breakfast because this chewy granola bar recipe has been a lifesaver.
Bake this over the weekend, store in an airtight container and you're all set for the week. Perfect for that grab-and-go breakfast moment or as a snack in lunchboxes. It's super easy to make – even for the novice baker. What's more, it's vegan, gluten-free, and only requires few ingredients you most likely already have in your pantry.
These granola bars, or flapjacks, as they are called in the UK, contains 7 main ingredients.
Oats (Use certified Gluten-free Oats)
Cranberries
Pecans (Optional)
Bananas (Medium ripe bananas)
Dates (Soaked in hot water for at least 15 minutes)
Almond Flour
Coconut oil
HOW TO MAKE THE BEST GRANOLA BARS
The best part of making granola bars is that they are easily customisable. You get to use ingredients that you love, and suits your dietary needs. My favourite mix-ins are Dates, Coconut oil, Chia seeds, Flaxmeal, chocolate chips, nuts and whatever dried fruits I have available.
My top tips for getting the best results everytime are:
Use ingredients that binds the bars together
If you don't want the granola bars to crumble and fall apart as soon as they're out of the oven, use ingredients that will helps keep the bars together. I find that Bananas, Nut butters, Date, Coconut oil and any sticky syrup of choice does a great job.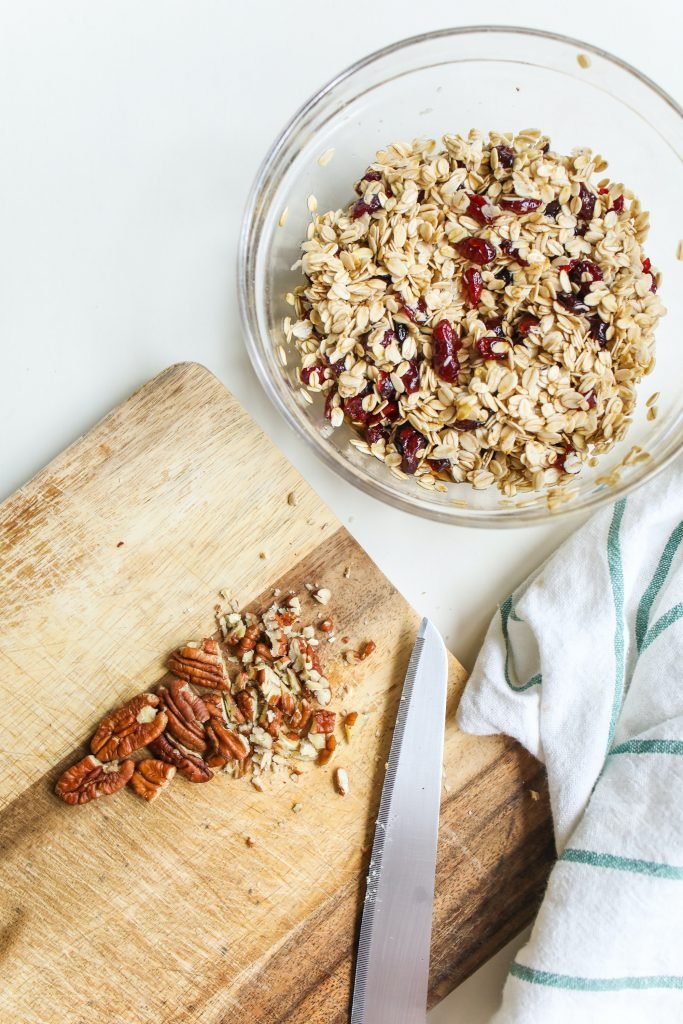 Bake at /180ºC/gas 4/350ºF/ until golden and set
Transfer the oat mixture into a deep baking tray, pressing down firmly until evenly spread out. Preheat the oven and bake at 180ºC/350ºF/gas 4. Baking at a very high temperature will cause the mixture to dry out and crumble.
Have fun with it
This chewy granola bar recipe is so versatile. You can customise it however you like. I like to keep it simple and plain. However, feel free to get creative with it by adding layers of nut butter or jam. If you love chocolate, throw in some chocolate chips into the mixture, drizzle some chocolate on top or add a layer of melted chocolate to the granola bar once it's baked and at room temperature. Then leave to set in the fridge before cutting into mini bars.
How to store
Stays fresh in the fridge when stored in an airtight container for 2 weeks. To freeze, wrap in greaseproof paper and place in a ziplock bag in the freezer for up to 3 months.
Please let us know if you've tried this recipe in the comment section. Share with us your favourite granola mix-ins and how you've customised to make it yours!
Looking for a no-bake snack recipe? You'll love our Date Energy Balls Recipe. 
Chewy Granola Bars
Ingredients
100 grams of Almond Flour
1 Cup Rolled Oats (Certified Gluten-free if needed)
70 grams of Cranberries
50 grams of Chopped Pecans (Optional)
⅓ Cup Coconut Oil (melted)
2 Medium-sized Bananas
½ Cup Dates (Soaked in hot water)
Instructions
Soak the pitted dates in hot boiling water for a minimum of 15 minutes.

Pre-heat the oven to 180ºC/350ºF/gas 4. Grease a 8 x 8 inch square baking dish or line with parchment paper and set aside.

Add the dates and bananas into the bowl of a food processor. Process the dates and bananas until smooth.

Transfer into a large bowl and pour in the coconut oil, oats and almond flour.

Stir to combine the ingredients thoroughly.

Chop the cranberries and pecans (if using) with a knife. Then add to the oat mixture and mix it all in.

Transfer to the baking dish, pressing down firmly to spread evenly. Bake until golden and set.

Take out of the oven and leave to cool. Then cut into bars with a knife.

Eat immediately, or store in the fridge in an airtight container. You can also freeze in ziplock bags for up to 3 months.