Jump to Recipe
This cherry smoothie ticks all the boxes for me. It's vegan, contains all natural ingredients and made with just 5 ingredients. Like some of our other Smoothie Recipes, such as our Kiwi Banana Smoothie and Blueberry Smoothie, it is completely dairy free and absolutely delicious!
Cherries are one of the fruits I can't get enough of all summer. This vibrant, juicy dark red fruit, is one of summer's most versatile and enjoyable fruits.
Delicious in pies, cakes, crumbles, smoothies.. I can't think of a summer dessert cherries can't be added into. Okay, maybe i'm a bit biased because I have a cherry tree growing in my garden that provides me with an abundance of cherries all summer. Which means I have to come up with creative ways to use up all the harvested cherries. But I really don't mind. Who can resist cherries?
What you'll need:
Cherries
Cherries are full of antioxidants and anti-inflammatory compounds. They are also a good source of vitamin C. Although these sweet juicy fruits are only in season during the summer months, you can easily grab hold of some frozen cherries at the grocery store all year round. Moreso, frozen cherries works best in this smoothie.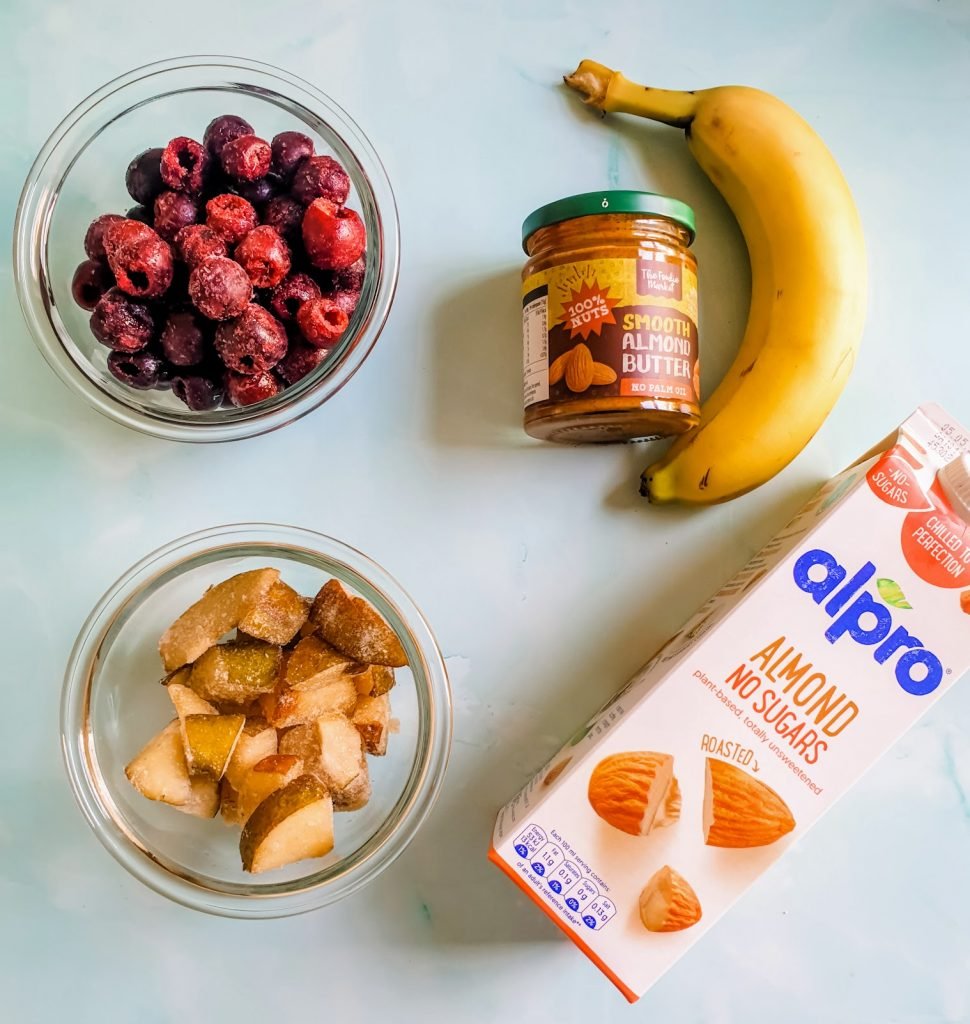 Bananas
High in Potassium, Magnesium, Thiamine(B1) and Vitamin B6. Bananas are highly nutritious and contains fibre that'll leave you feeling fuller for longer. I prefer using frozen bananas in most smoothies. Plus I like how it gives this cherry smoothie a nice creamy taste. Fresh banana works well too.
Pear
Pears contains loads of vitamins, minerals and natural sugars. They are high in vitamin c & vitamin k and an excellent source of fibre. The frozen pear blends into the smoothie nicely without being too overpowering.
Almond milk
Plant milk such as Almond milk and cashew nut milk goes really well in this smoothie. I wouldn't use coconut milk, as it will change the taste completely. Unless you are a huge fan of coconuts, then go for it.
Almond Butter
We have substituted with Peanut butter in the past and it still tastes great. I think any nut butter would work well. Feel free to experiment and let us know what works for you in the comments section.
Cherry Smoothie
Servings: 1
Ingredients
1 cup Frozen Pitted Cherry
⅓ cup frozen Pear
⅓ cup Frozen Banana
½ cup Almond Milk
1 tbsp Almond Butter
Instructions
Cut up the fruits, add to the blender along with the other ingredients

Blend. If the Smoothie is too thick, add more milk as needed.

Pour into a glass and enjoy.