Jump to Recipe
This Beet salad with Quinoa and Mandarin takes me to summer each time. The vibrant colours and citrusy burst of flavour is so refreshing. You also get a lovely crunch from the walnut and a rich, tangy flavour from the Feta cheese. All these flavours work so well together to create this beautiful, delicious salad with a balanced blend of flavours.
I find this salad to be great on its own or a perfect accompaniment to fish or meat dishes. It contains quinoa, which is a really good source of protein, and has a high fiber content. It is sure to keep you feeling fuller for longer.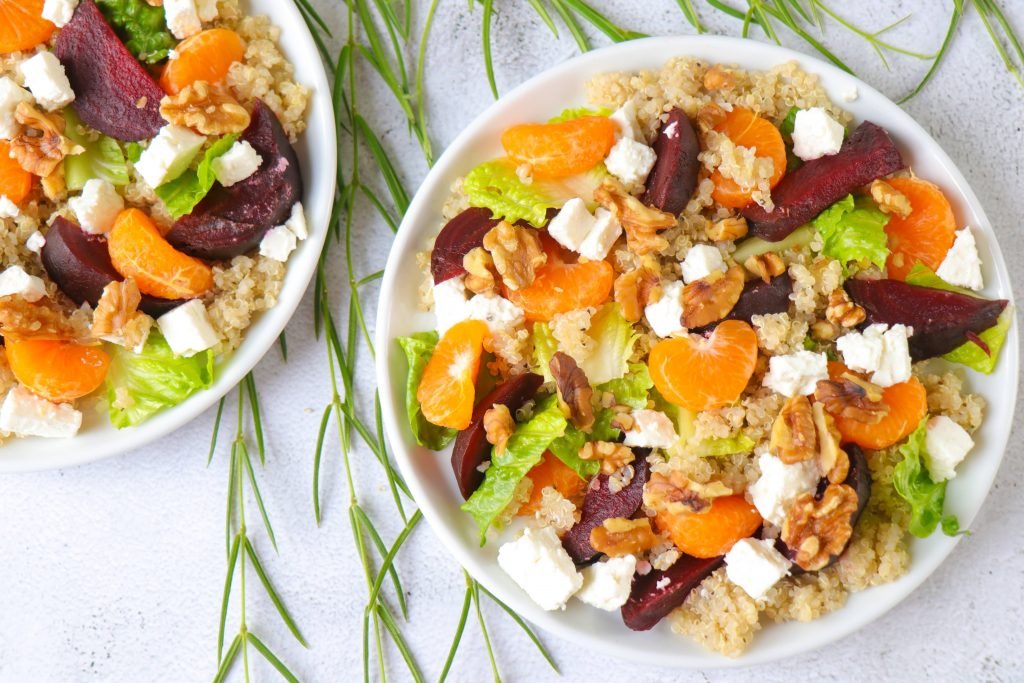 What You'll need to make this Beet Salad with Quinoa and Mandarin Orange
To make this Beet Salad with Quinoa and Mandarin Orange, you need only a handful of ingredients below:
Quinoa – Cooked fluffed quinoa. Any variety works well. See steps below on how to cook Quinoa perfectly each time.
Beetroot – Boiled, steamed or roasted beetroot, cut into slices.
Feta Cheese– Adds a rich, tangy flavour to this salad. Toss into the dish crumbled or cut into small cubes.
Mandarin Orange – I use fresh mandarin oranges, peeled with seeds removed (if any). You can also use canned mandarin oranges to save time. They are more tender and all the hard work has been done for you.
Walnuts – Garnish with chopped walnuts for a crunchy and nutty flavour. I have also used sliced almonds and pine nuts previously and the salad still tastes great.
Leafy Salad of choice – Lettuce/ Spinach / Rocket leaves all work well in this beet salad. Slice thinly into biteable sizes and mix in with the other ingredients.
Salad dressing – The salad dressing that complements this Beet Salad has just 3 main ingredients – Mandarin orange Juice (you can substitute with orange juice concentrate), Red wine vinegar and Extra virgin olive oil.
Whisk all ingredients together in a bowl until well combined, add salt and pepper to taste. Drizzle over the Beet Salad with Quinoa for a delicious refreshing flavour
How to Cook Quinoa
Rinse the Quinoa in cold water to stop the little grains sticking together.
Pour some cold water into a pan, pour in your quinoa and bring to boil. For every cup of quinoa, add 2 cups of water.
Add salt to taste and cook for 15 minutes, or according to packet instructions.
Fluff the quinoa with a fork, and leave to cool for 15 minutes before adding to your salad.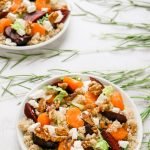 Print Recipe
Beet Salad with Quinoa and Mandarin Orange
Servings: 3
Ingredients
Salad Ingredients
A handful of Lettuce or Baby Spinach leaves
2 medium sized Cooked Beetroot (Sliced)
1 Cup Cooked Quinoa
Feta Cheese
2 Mandarins (Peeled)
¼ Cup Walnuts (Chopped)
Salad dressing
2 tbsp Mandarin Orange Juice or Orange Concentrate
2 tbsp Red wine vinegar
1 tbsp Extra virgin olive oil
A pinch of Salt (to taste)
Instructions
Cook the quinoa, fluff with a fork and leave to cool for 10-15 minutes.

In a bowl, add in the quinoa, lettuce (or baby spinach), sliced beetroot and mandarin orange.

Toss together, add in the feta cheese and chopped walnuts.

To make the dressing, whisk together the vinegar, olive oil and mandarin juice until well combined.

Add some salt and pepper to taste. Drizzle over your salad and mix well.