Creamy and delicious mascarpone biscoff cheesecake that is sure to impress family and guests at any occasion. This no-bake cheesecake is easy to make as it requires less effort compared to a baked cheesecake.
No oven is needed. Now, let's get right to it!
No-bake cheesecakes have become quite popular lately. This comes as no surprise at all because it requires less effort and isn't as prone to mishaps when compared to baked cheesecakes. Think about how many times you're not quite sure if your baked cheesecake is ready.
Having to check constantly whether the cheesecake is jiggly enough or the middle is set just right!
This no-bake mascarpone biscoff cheesecake takes all of that guess work away. Leave in the fridge to set for a few hours before serving and you're good to go.
How to make a no-bake Biscoff Cheesecake
Super easy! To make the biscuit base for the No-Bake Mascarpone Biscoff Cheesecake, crush 300grams of biscuit and combine with 125grams of melted butter.
The cheesecake is packed with a lovely caramel flavour thanks to the biscoff spread in the cheesecake filling. To tone down the caramel flavours a little, using a combination of crushed Biscoff and Rich tea biscuits for the base works really well.
However, if you love that deep caramel flavour, feel free to leave out the rich tea biscuits completely and use 300grams of Biscoff biscuits for the biscuit base.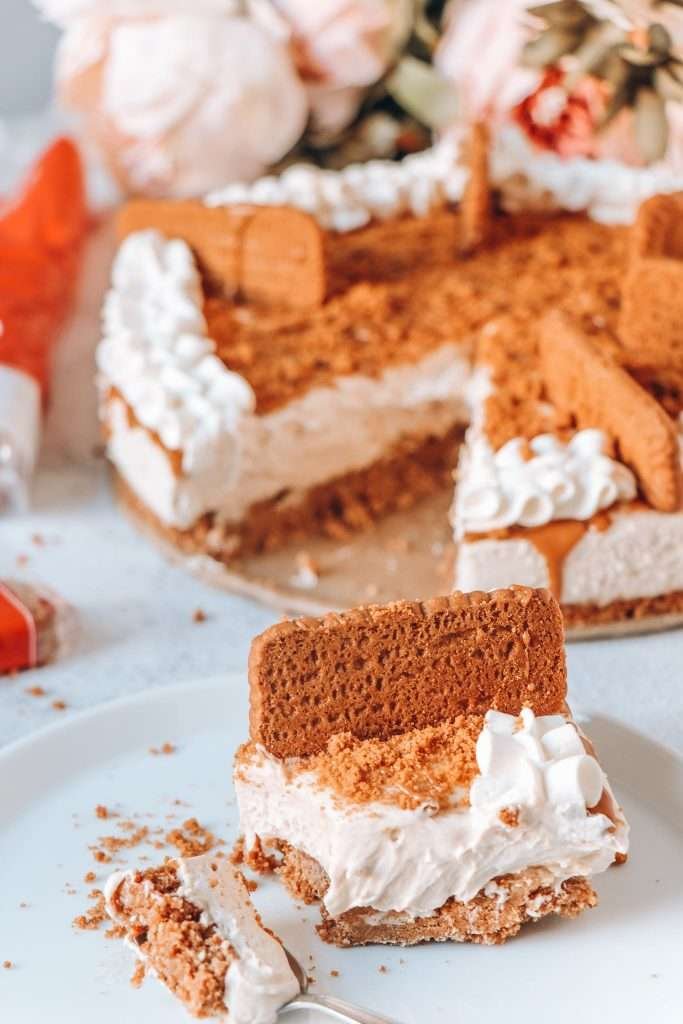 Make the cheesecake filling by whisking together mascarpone cheese, cream cheese, powdered sugar and biscoff spread until thoroughly combined. Fold in whipped double cream gently. Pour the cheese mixture on top of the biscuit base and leave to set in the fridge for up to 6 hours or overnight.
I have used a 9″ (22cm) Spring form cake tin lined with parchment paper for this cheesecake. This recipe serves up to 8 people.
How to store your Mascarpone Biscoff Cheescake
The cheesecake will keep fresh for up to 4 days in the fridge. To make sure it stays fresher for longer, seal in an airtight cake tin or container before storing in the fridge.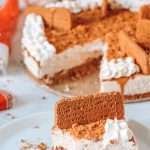 Print Recipe
No-Bake Mascarpone Biscoff Cheesecake
Servings: 8
Ingredients
For the Cheesecake Biscuit Crust
150 grams Lotus Biscoff Biscuits
150 grams Rich tea or Digestive Biscuits
100 grams Melted Butter
For the cheesecake filling
300 ml Double cream
50 grams Powdered Sugar
250 grams Biscoff Spread (Smooth)
180 grams Full Fat Philadelphia Cream Cheese
250 grams Mascarpone Cheese
To decorate the cheesecake
2 Biscoff biscuits – crushed and some extra to decorate
3 tbsp Biscoff spread (melted)
½ cup Whipped cream – to pipe on cheesecake
Instructions
To make the biscuit base
In a food processor, crush the biscoff biscuits and rich tea / digestive biscuits until you get a sandy texture.

Pour the melted butter into the crushed biscuits and mix until combined.

Tip the biscuit mixture into a prepared spring form cake tin. Press down to achieve an even layer at the bottom of the tin. Place in the fridge.
To make the cheesecake filling
In a large mixing bowl, whisk together the mascarpone cheese, cream cheese, powdered sugar and biscoff spread.

Pour the double cream into a separate bowl and whip until it forms stiff peaks.

Carefully fold the whipped cream into the cheese mixture until thoroughly combined.

Take the cheesecake filling and pour it into the springform tin, right on top of the biscuit base.

Place the cheesecake in the fridge to set for up to 6 hours or overnight.

Once the cheesecake is set, top with crushed biscuits and melted biscoff spread. You can also pipe some whipped cream to decorate (optional)

Serve and enjoy!