Plantains are a close relative of Bananas. However, they are much larger, starchier and must be cooked before eating. Oven Baked Sweet plantains are perfect as a side dish or to have as a quick snack. They are delicious eaten on their own, dipped in a sauce or served along with some coarse salsa as shown below.
What You'll Need
Plantains – The riper the plantain, the sweeter and softer it will be when cooked. If you're going for a crispier oven baked sweet plantain, that is still firm when baked, choose a medium ripe plantain. For Plantain chips, you will need to go for plantains that are still green to get that crispy crunchiness. Some people prefer very ripe plantains with some black spots.
My preferred way of cutting Plantains is diagonally – half an inch thick. Feel free to cut in any shapes you like. Making sure to cut the plantains into the same width, so they can bake evenly.
Salt – To taste.
Ground spice – **Optional (See Notes).
Oil – Use any oil of choice. If you're Iooking for an healthier option, I recommend using cooking sprays as they have less calories than oil.
Pro Tips for Achieving the Perfect Oven Baked Plantains
Use a Baking Tray liner on your baking sheet to avoid the plantains sticking to your tray.
Make sure to preheat the oven to 220°C/ 425°F/ Gas Mark 7.
Midway into the cooking time, turn the plantains so that each side bakes evenly.
The oven baked sweet plantains are nicely baked when they turn a lovely golden brown colour and are crispy around the edges.
We love to eat them straight out of the oven, piping hot. It's up to you. You can also wait for them to cool down before tucking in. They taste just as great and are firmer when cool.
If you have leftovers, not to worry, the oven baked sweet plantains will stay fresh when stored in an airtight container in the fridge for a couple of days.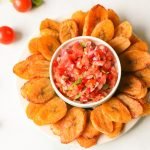 Print Recipe
Oven Baked plantains
Servings: 2
Ingredients
1 tbsp Sunflower Oil
1 tbsp Ground mixed spice
2 Ripe Plantains
A Pinch of Salt
Instructions
Pre-heat the oven to 220°C, Gas Mark 7.

Coat a baking tray with some oil.

Peel the plantains, making sure to chop both ends off, slicing the skin off.

Slice diagonally, about ½ inch thick.

Place in a bowl and season with some ground spice and salt, mixing thoroughly.

Transfer to the baking tray, leaving enough room between each slice.

Bake in the oven for 15-20 minutes, until golden brown.

Serve and Enjoy.
Notes
Plantains – The riper the plantains, the softer and sweeter they will be. It's the same as Bananas, how firm or sweet do you like them? I personally prefer medium ripe plantains or bananas with no black spots on them.    Oil – I used Sunflower oil in this recipe, but feel free to substitute with Avocado oil, Rapeseed oil or any other oil of choice. You can use an oil spray to apply thin coats on both sides before baking in the oven.   Ground Mixed Spice – This is optional. I use them sparingly as they complement the plantain perfectly in my opinion. Feel free to leave them out and it'll taste just as great.