Jump to Recipe
Luxurious, Silky-smooth, indulgent, and very satisfying! Are the perfect words to describe this mascarpone ice-cream.
If you've tried a no-churn ice cream recipe and have been put off by the gritty/sandy texture, this recipe is for you. And if you've never tried mascarpone ice cream before, then my dear friend, you don't know what you've been missing!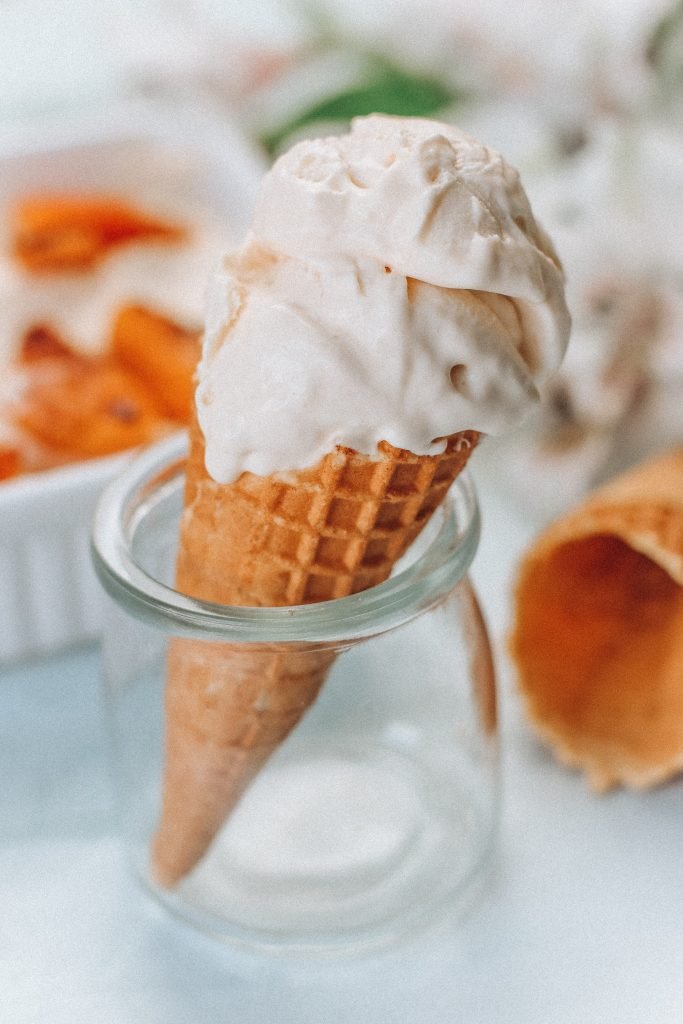 How to make a no-churn ice cream
No-churn ice cream is basically making ice cream without using any fancy machine to stir and aerate the mixture until it freezes. To achieve the same silky-smooth texture as when using an ice cream machine, try the following:
Use double cream in place of milk.
Take the ice-cream mixture out of the freezer every hour, stirring to break down any ice crystals until it freezes solid.
Condensed milk (If using) does help achieve an even better texture. Please note that my mascarpone ice cream recipe contains no condensed milk.
Make sure to place the ice cream mixture at the back of the freezer shelf so it can freeze evenly.
What you'll need to make this mascarpone ice cream
3 Egg Yolks – Large egg yolks whisked with sugar until pale and thick, forms the custard base of this ice cream.
Sugar – I made this with 60g caster sugar as I prefer very mild sweetness. Feel free to adjust to taste.
1 tsp Vanilla Extract – Using the finest quality vanilla extract or seeds of half a vanilla pod, will truly transform the flavour of this ice-cream from basic to scrumptious!
600ml Double Cream – This ice cream is super-rich. If you would like to dial down the richness a little bit, replace 300ml double cream with 300ml full fat milk.
Tub of Mascarpone cheese (250g) – Oh yes! making a mascarpone ice cream wouldn't be complete without some mascarpone cheese. I find that this is the real game changer here.
Herb Infused Ice-cream – or other flavoured variations
So many delicious flavours of ice cream to make. From herb and spice infused, to fruity ice cream flavours. The possibilities are endless!
I find that Basil, Rosemary and Thyme make excellent mascarpone ice cream flavours. To infuse the herbs, take a few fresh herb cuttings and boil in the ice cream custard for 5-8 minutes, or longer, depending on how intense you want the flavours. Scoop out the herbs and leave the custard to cool before freezing.
To make a fruity mascarpone ice cream, in a separate bowl, mash 2 cups of fruits of choice with a fork into a purée, draining any excess liquid. Swirl into the ice cream mixture right before freezing
Silky Smooth No-Churn Mascarpone Ice Cream
Servings: 4
Ingredients
250 grams Mascarpone Cheese
60 grams Sugar
3 Egg Yolks
600 ml Double Cream
1 tsp Vanilla Extract
Instructions
Whisk together the egg yolks and sugar until thick and turns pale yellow.

In a pan over medium heat, pour in the double cream, mascarpone cheese and vanilla extract. Stirring until well combined.

Add the herbs at this point if using.

Just before the cream mixture starts to bubble, take off the heat and slowly pour into the whisked egg yolks. Keep mixing until it has combined throughly.

Transfer the mixture into a clean pan. Cook over low heat, stirring constantly until it thickens enough to coat the back of a spoon.

Take off the hob and leave to cool. Pass the mixture through a sieve,discarding any hard bits that remain.

Add the fruit puree (if using) once the ice-cream mixture has cooled completely.

Transfer the ice cream into a container with a lid, or cover with cling film and place in the freezer.

Stir the ice-cream every 30 minutes to an hour, breaking down any ice crystals that may form. Cover and freeze until solid.

Serve and Enjoy!