Jump to Recipe
I think of a galette as all the deliciousness of a pie without the effort. It requires just two things, a pie dough and a filling. Nothing fancy. Comes together in less than an hour and depending on the filling of choice, can be made into a savoury pie-like dish or a tasty sweet dessert. This Cherry Almond Galette makes a sweet show stopping dessert. I have added in slices of tart green apples to balance the sweetness of the cherries perfectly. This is optional of course, but i find they go so well together, you should give it a try.
How to make an easy galette
Well.. I thought you'd never ask! You can make this Cherry Almond galette recipe even easier by using store bought ready rolled dough. It makes for an easy galette and will save you so much time. Simply unroll the dough onto a baking paper, add your fillings, bake and… voilà! you have yourself a tasty dessert ready in 30 minutes.
But if like me, you would rather make everything from scratch, feel free to follow the steps below to see how I make the almond pastry dough.
Here's how to make the delicious almond GALETTE crust:
I would recommend mixing all the ingredients in a food processor or a mixer as the dough gets quite wet and sticky. If you prefer to knead by hand, transfer the dough to a lightly floured surface and knead for no more than 5 minutes. Wrap the dough in cling film and leave in the fridge to rest.
Ingredients for the almond crust:
Plain flour – 1½ Cup of Plain Flour levelled with a knife. The trick to getting the measurements right with measuring cups, is to fluff the flour with a fork or spoon before transferring to the measuring cup.
Ground Almonds – I use ¼ Cup of Ground Almonds. To make it entirely nut free, substitute with ¼ Cup of Plain flour
Butter – I prefer to use unsalted butter at room temperature.
Sugar – Sugar can be left out or reduced to suit your taste. I used 2 tbsp White granulated sugar for the crust.
Salt – Add a pinch of salt to taste.
To make the Cherry Almond Galette filling:
You'll need cherries! Sweet pitted cherries. It really doesn't matter whether you choose to use frozen or fresh cherries, it still turns out great. If you decide to leave out the green apples, add one more cup of cherries and mix directly into the cinammon butter mix.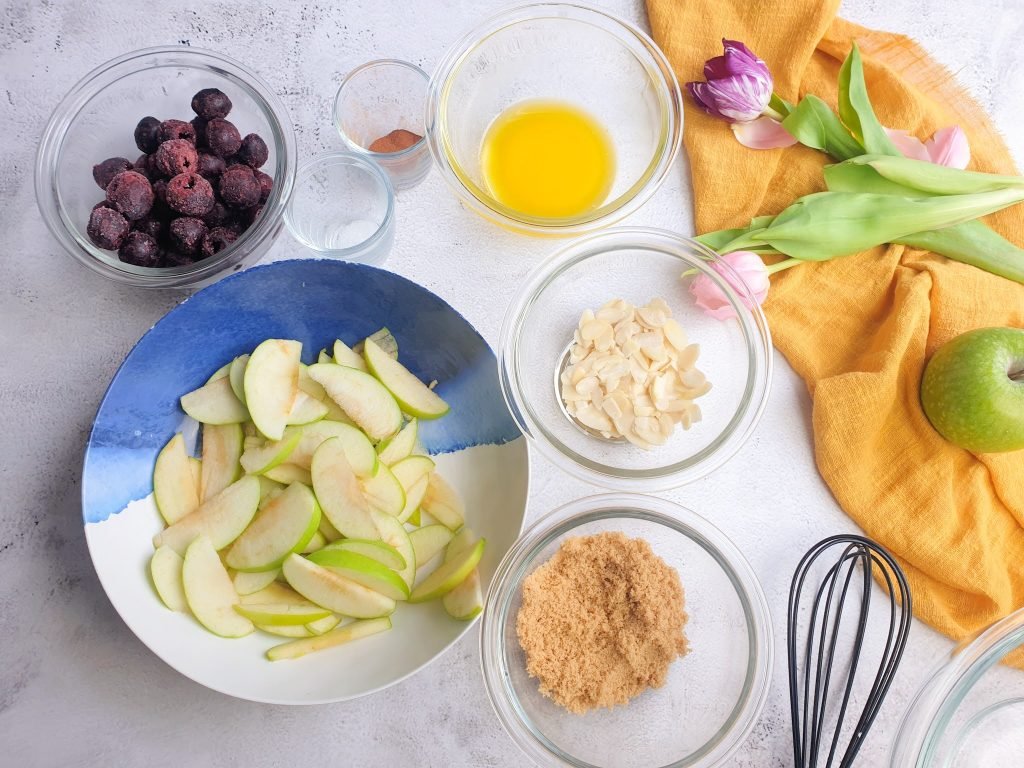 If you decide to make a combination of Cherry Apple Almond Galette like I did, I would suggest using a tart green apple variety such as Granny Smith apples or Bramley apples. Slice thinly to lessen cooking time and coat in cinammon, butter and sugar before adding to the centre of your rolled out pastry.
In the recipe video, you'll see that i skipped coating the cherries with the cinammon mix. That is because the juices from the cinammon coated apple will sip into the cherries anyway when baking, so there's no need to. However, if you would like to coat all the fillings with cinammon, use a pastry brush to coat the top of the cherries with any leftover cinammon butter mix before placing in the oven.
If you've tried this recipe, follow us on instagram and tag us! We would love to see your baked galette.
Are you looking for more dessert ideas? Have a look at our super indulgent Chia Seed Chocolate Mousse Pudding Recipe.
Cherry and Apple Almond Galette
Delicious Almond Galette with a Cherry and Apple filling
Servings: 4
Ingredients
For the Almond pastry
1½ Cup Plain Flour
¼ Cup Almond Flour or Ground Almond
130 grams Butter
¼ Cup Water (Adjust as needed)
2 tbsp Granulated Sugar
½ tsp Salt
For the Cherry Apple filling
2 Apples (Sliced thinly)
1 Cup Cherries (Pitted)
1 tbsp Cinammon
¼ Cup Brown sugar
3 tbsp Melted Butter
A Pinch of Salt
Instructions
To make the Galette Pastry
In a bowl, add all the dry ingredients, and whisk together until combined.

Transfer into a food processor or a standing mixer (If using). Or onto a lightly floured surface.

Add the butter and knead by hand, or on medium speed in a stand mixer/food processor until you get a crumb-like consistency.

Pour in the water gradually until it forms a dough. Adding more if needed. At this point the dough would be quite moist and sticky.

Transfer the dough into a clean bowl, or wrap in cling film.

Leave the dough to rest in the fridge for 30 minutes to an hour.

Make your galette filling during this time.
To make the filling
Mix the melted butter, salt, sugar and cinammon together in a bowl.

Add in the apples until coated.
Construct your Galette
Preheat the oven to 180°C/Gas Mark 4/356°F.

After the dough has rested, take it out and transfer to a lightly floured surface.

Roll the dough roughly into a 12-14'' circle. Dusting the centre of the dough with some plain flour.

Add the cherries to the centre of your galette pastry, making sure to layer the sides and top with the apple slices.

Fold the edges of the dough over the filling, overlapping the folds and pressing gently to keep them in place.

Egg wash the pastry and add some flaked almonds to the top and sides of the galette.

Bake for 30-35 minutes, until the filling is thoroughly cooked and you get a golden brown crust.

Leave to cool before serving.