Jump to Recipe
I love how versatile energy balls are and wish I'd known of them years ago. They are no-bake and ready in just 15 minutes. So easy to make and make a super healthy snack. These are Great for lunchboxes and the ingredients can be easily swapped to suit your dietary needs. Even the fussiest little eaters will love these! Date Energy Balls stay fresh in the fridge for up to a week, and can be made in advance as part of your weekly meal prep.
Why are they called "Energy" Balls?
Packed full of nutrients, they are perfect for a good energy boost when in need of a pick-me-up snack. The typical ingredients in energy balls are: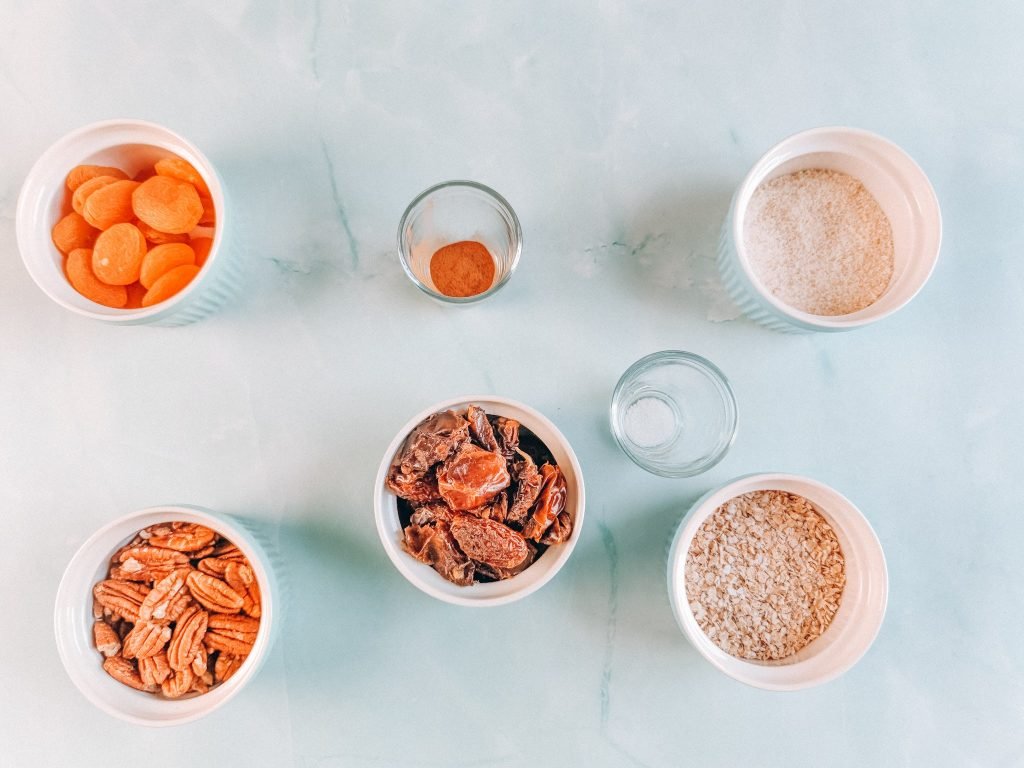 Nuts
Nuts are highly nutritious and contain healthy fats. When blended in, they add a delicious creamy texture to these date energy ball. We tend to use Pecans or Cashew nuts, but this can be substituted with any nut butter you have available. If you have a nut alllergy, leave out the nuts and add in more oats.
Dried Fruits
Dried fruits are a good source of vitamins and minerals. We love using dried fruits in our energy balls for some extra sweetness. Most energy ball recipes uses Dates as a binder. The stickiness acts as a glue to bind the other ingredients together when blended in. Other dried fruits such as Apricots, cranberries and figs are also perfect in energy balls.
Whole Grains
Whole grains are great in healthy snacks as they contain fibre that leaves you feeling fuller for longer. We use Oats and Chia seeds in our energy snacks because they are naturally gluten free and high in fibre. Chia seeds are also a good source of protein and contain many other important nutrients – which makes them great in high protein snacks. In this Date energy balls recipe, we've added in oats for some fibre and texture.
Extras
The fun in making energy balls is that you can customise with healthy ingredients you have on hand. My favourite mix-ins are cocoa powder, flax meal, chia seeds, coconut shavings and chocolate chips. You can also add in spices like cinnamon, vanilla extract or nutmeg to taste. Feel free to experiment with different mix-ins or spices you like.
Date Energy Balls
Ingredients
1 cup Pitted Dates
1 tsp Cinammon
A Pinch of Salt
⅓ cup Apricot (Optional)
⅓ cup Pecans
¼ cup Dessicated coconut
½ cup Oats
Instructions
Soak the dates in hot water for 10 minutes

In a food processor, add in all the ingredients (excluding the dessicated coconut) and blend.

When it's fully blended and forms a dough, roll into mini balls with your hands

Then roll each dough ball again in the dessicated coconut.

Eat immediately or refridgerate for later.