With the kids being home all the time, I often find myself forgetting to eat lunch or breakfast sometimes.
I know.. I know.. Not good enough.
I have to admit though, that it has been a constant struggle juggling homeschooling, working from home and trying to maintain an healthy lifestyle. I am certain a lot of parents can relate with this. However, this chia pudding recipe is perfect for the busy individual. Easy to make and packed full of healthy nutrients. Sure to leave you feeling fuller for longer and energised to take on whatever your day might bring.
Perfect as an healthy snack or breakfast, you can prepare this Chia pudding in advance and store in the fridge for up to 2-3 days.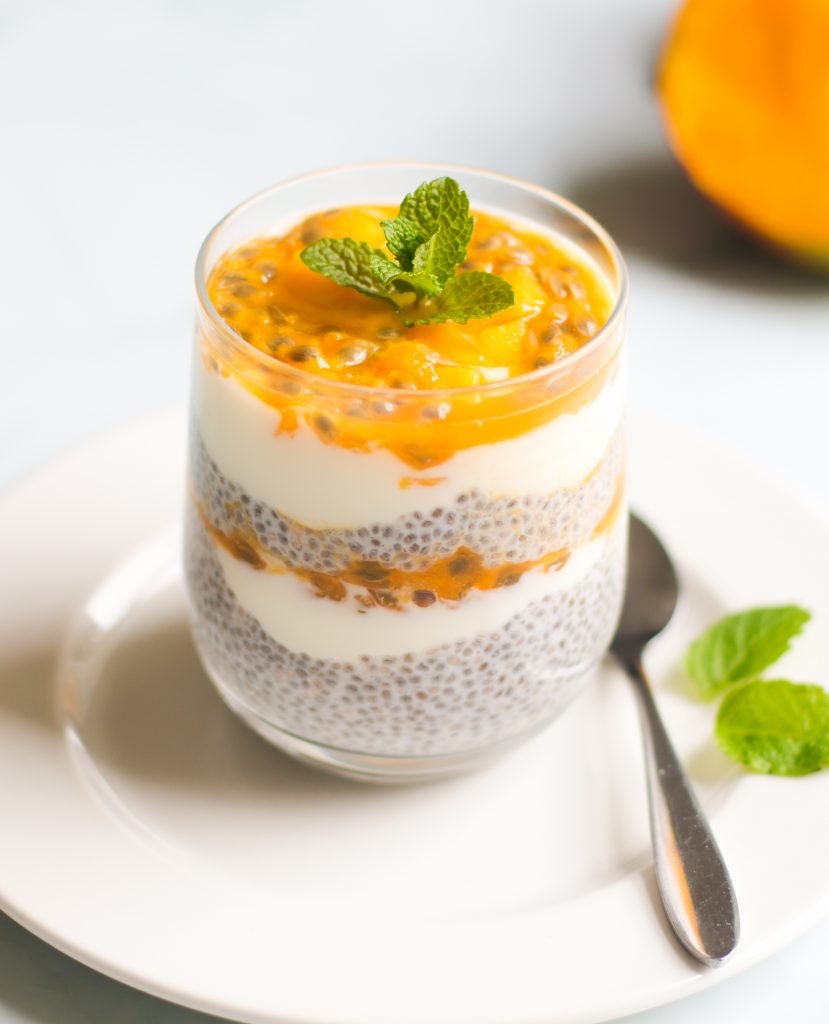 Benefits of Chia Seeds
Chia seeds are packed full of minerals and anti-oxidants, making them one of the healthiest foods on the planet. They are perfect for weightloss because they contain very little calories and a high amount of fibre and protein. The fibre helps speed up your metabolism and supports digestion. What's more, it's gluten free!
Read more on the benefits here
How to make Chia Pudding
Soaking chia seeds in water or milk for a couple of hours or overnight gives the seeds enough time to absorb the liquid. You'll end up with a creamy gel like consistency which is so much easier to digest.
If you are short on time, soak the chia seeds for as little as 30 minutes and it'll be ready to serve.
The ratio of chia seeds to liquid that works best for me is 2 tbsp of Chia seeds to half a cup of milk/water. The longer you leave the chia seeds soaking, the more liquid it'll absorb. Stir more liquid in gradually if the pudding consistency is too thick for your liking.
The addition of fruits and yoghurt in this chia pudding recipe gives it a refreshing taste. I prefer to use mango and passion fruits because they go so well together. Feel free to swap and layer with your favourite fruits of choice. You can also add dried or frozen fruits in the chia pudding if you can't get hold of some fresh ones.
I like that the creaminess of the yoghurt complements the fruits and soaked chia perfectly. Every scoop of each layer melts in the mouth and will leave you wanting more.
Try this Chia pudding recipe and let me know in the comments section how you find it!
For more healthy recipes, why not try our Blueberry Smoothie Recipe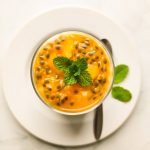 Print Recipe
Chia Pudding Recipe
Overnight soaked chia seeds layered with yoghurt and fruits.
Servings: 1
Ingredients
2 tbsp Chia Seed
½ cup Coconut milk or any other milk of choice
Diced mango (I use 1 tbsp for each layer)
Passion fruit (use as much as needed for each layer)
Dairy free Yoghurt or Greek Yoghurt
Honey or Erythritol for sweetness
Instructions
Add the chia seed into a glass of milk, add some honey or Erythritol for sweetness and stir to remove any clumps

Soak the chia seeds in milk overnight or for a minimum of 3 hours

Dice the mango or any other fruit of choice and cut open the passion fruit. Scooping out the pulp with a spoon.

Now you can start the layering.

Layer as you prefer. I usually start with soaked Chia seeds, add some yoghurt, then the fruits.

Repeat another layer and enjoy.