Smoothies are a favourite in my home! Perfect for post-workout breakfast, a quick lunch fix or just to satisfy sweet cravings in the evenings. They are super quick and easy to make and is a healthy substitute for carton juices, fizzy drinks and even milkshakes! To save time when making smoothies, cut up the fruits and freeze ahead of time. Since developing dairy intolerances, I prefer to make my smoothie without yoghurt or milk.
We usually make 2 separate batches of smoothies daily, with and without any dairy products. This blueberry smoothie is certainly my go to recipe when I want smoothie that's sweet, smooth, refreshing and packed full of energy boosting fruits. Although milk or yoghurt adds creaminess to a smoothie, you can still get the creaminess when using plant based milk or bananas. To save time when making smoothies, cut up the fruits and freeze ahead of time.
Even better, you get at least 3 out of your 5-a-Day in one smoothie .
I'll tell you why this smoothie recipe is energy boosting and will help on those days you're in need of some pick-me-up. It contains 3 main fruits:
Blueberries – packed full of anti-oxidants, helps reduce fatigue, aids muscle recovery and helps reduce inflammation in the body.
Banana – High in Potassium, Magnesium, Thiamine(B1) and Vitamin B6. Bananas are highly nutritious and contains fibre that'll leave you feeling fuller for longer.
Clementine – Rich in Vitamin C, fibre and Thiamine, improves gut health and will help boost your immune system.
Optional Extras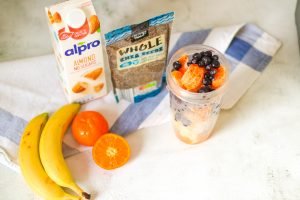 Oats – Add rolled Oats to add some fibre and creaminess to any smoothie.
Chia Seeds – blend with a tbsp of chia seeds to add healthy fats and protein to your smoothie.
Plant- based milk/drink – My go-to plant milk are coconut milk and cashew nut milk. You can also choose from Almond milk, Oat milk, Soya milk or any other dairy free milk/drink within your reach.
Blueberry Smoothie without yoghurt or Milk
Non-dairy Energy Boosting Smoothie
Servings: 2
Ingredients
1 cup Blueberries
2 Clementines
1 Banana
1/3 cup Ice
1/4 Dairy free milk (Almond, coconut milk or simply add water)
2 tbsp Rolled oats or Chia seeds (Optional)
Instructions
Add all the fruits in to the blender, along with some ice and water or non-dairy milk.Blend and serve immediately.