Moving abroad can be very exciting but also a very daunting and stressful process. So much to do before you leave and a lot to learn about your destination country. Having a checklist when moving abroad is a great way to make sure you've got the most important bits covered. Plus i'll be throwing in some advice to help you along.
People move overseas for various reasons such as to start afresh somewhere else or to search for better quality of life. In the year ending 2019, the Office for National Statistics reports showed that 407,000 people left the UK. With an estimated 270,000 more people coming to the UK with an intention to stay.
When I moved to the UK, a checklist such as this, would have made the process of moving abroad so much easier. There were so many things I could have done differently. In hindsight, I should have done some better research about my destination country, got my finances in order and sorted out some tricky living situations before hand. This would have made the move less stressful.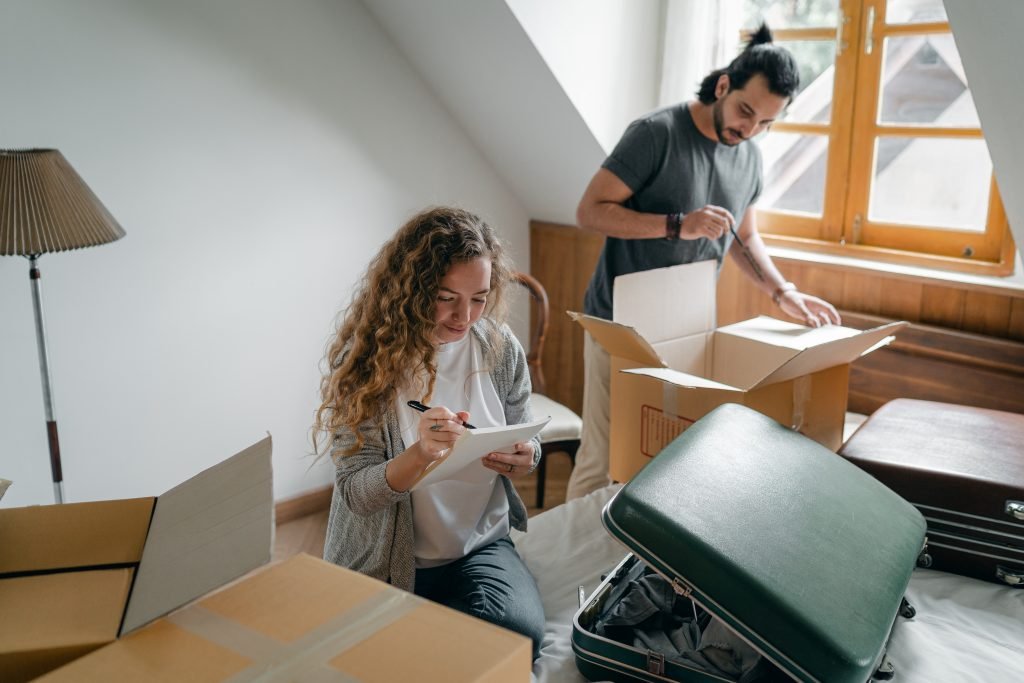 Where to start?
By now, you've decided on the location and have started sorting out your affairs in your native country. It is important to sell and purge everything you don't need and isn't worth shipping to your new home. Look into the International shipping options that are available to you and is cost efficient. Available shipping options for moving personal belongings are Air, Ocean and Ground/Road Freight. The option you choose for shipping your personal belongings will depend on your moving plan.
You should also pay off all your bills and debts before leaving and ideally, say your goodbyes.
Now we can focus on the destination country and everything you need to do before you get on that flight. Below is a list of everything we'll cover in our moving abroad checklist.
Research your destination country
Job Search
Savings
Budget
Check Visa Requirements
Make Travel Arrangements
Organize Important Documents
Set up International Bank Account
Secure Temporary/ Permanent Accomodation
Organize means of Transportation
Make HealthCare Provisions
Check tax requirements in destination country
Research your destination country
This is the first and most important part of moving abroad. If you're still struggling to decide where to relocate to, write down a list of potential locations. Note down the list of things important to you, and check that each country fulfills that. After deciding the country you plan relocating to, start your research. Find out the languages spoken and what it's like for foreigners already living there. The important rules and regulations you need to adhere to, or the general living standards in the country you're moving to. Social media travel groups, simple google searches and online travel forums can help you find out what life is like in the new country from expats. If you've never visited the country, consider taking a trip to better understand the culture and feel the atmosphere for yourself before your big move.
Check Visa requirements
Now that you're happy and satisifed with the location you've chosen, the next step is to look into ways you can move to your new country legally. Every country will have a government website that gives information on residency permits and other types of visas you can apply for based on your circumstances. You can find this information on the official government immigration website such as the UK Visa and Immigration website.
The choice of visa you can apply for will depend on many factors such as your personal circumstances and the passport you hold. Prepare your visa application carefully. Giving yourself enough time to gather all the required documents. Take into account the estimated visa processing times for your visa type and bare in mind this could take longer in exceptional cases.
Job Search
If you're moving abroad to study or have already found a job, feel free to skip to the next item on the checklist. If not, before you leave, consider looking online for jobs that match your skillset using international jobs search websites such as Monster. Filter your search by location, paying attention to the skills required for the job. Make sure you're satisfied with the salary rates offered for the jobs in the country you're moving to.
Also, If you don't have the skills sought after, now is a good time to start taking a few qualifications to upskill. It'll gain you a competitive edge in the job market. Try to secure a job before relocating, if possible, to take the financial worries off. That could also help determine the state or province in your destination country to move to. Some companies are willing to carry out phone and zoom interviews and will go as far as sponsoring your work visa and assist with relocating costs for the right skills.
Check tax requirements in the destination country
Sorting out taxes can get quite complicated. You'll need to register with the tax authority of the country you're moving to. Start by checking the taxes that applies to you in the new country.
Moving abroad for work? Look into income tax and capital gains tax that might apply to you. You may also have to pay taxes on your pension. Property taxes may also apply if you're looking to buy a property overseas. I recommend visiting this page for expat tax advice.
Budget
Find out the everyday living costs in your destination country. How much does it cost to rent an apartment, buy a house or commute? What about the costs of groceries, utilities, insurance and other recurring expenditures? Prepare a budget based on your anticipated expenses and income. Have a financial plan in place that is reasonable, based on your findings and stick to it. Having a budget will guide you in planning your savings which i'll cover next.
Savings
I recommend having at least 6 months of your living expenses in savings before moving abroad. Start by looking at legitimate ways to make some extra income in addition to your current job. Cut down unnecessary expenses and put the money towards your savings.
Savings would go a long way to help with daily costs when you're settling in and finding your feet in your new country. Then again, it would be money you could fall back on in the event that things don't go according to plan. Not saying that it won't, but it's best to have some money saved up for unforseen circumstances such as emergency healthcare bills or to move back home if things don't go as planned.
Make Travel Arrangements
You've secured your visa, put a financial plan in place and have enough savings to your name. There's a lot of other boring tasks to do when moving abroad, but for now, let's move on to the exciting item on the checklist. Making travel arrangements. There's nothing I love more than booking my flight tickets. It seals the deal for me. Once my tickets are booked, I allow myself to start daydreaming about the new experiences and what my next adventure holds.
Start by searching online for your flight tickets, comparing airline fares to get the best deal. Set price alerts on your destination to monitor flunctuations in ticket prices. Remember to book your flights early to avoid paying more. Purchase travel insurance to cover cancelled flights, lost or damaged baggage, medical expenses or repatriation costs.
Organize Important Documents
The entire process of moving overseas will require certain documents to prove your identity or finances. You'll be asked to provide documents when you are applying for new bank accounts, renting an accomodation, hiring a car or applying for a job.
It is very important that you get all you documents sorted and organised ahead of time. Scan and make photocopies of all your important documents. Consider having the digital copies stored on a laptop and securely in the cloud. There are a couple of cloud storage options available such as google drive, one drive or drop box. Get all your documents translated and certified if they are in a foreign language. The procedures on legalisation and translation of documents is different per country. Find out what applies in your destination country.
Set up International Bank Account
Check with your bank if you can use your current bank account in your destination country. You might incur additional fees for transactions carried out abroad. Some UK banks have international branches. HSBC for example, operates in 30 countries around the world. If your bank has presence in your new country, it would be easier to open an international bank account with them before you leave.
In addition, most expats keep a bank account in their home country and a local account in their new country for taxation purposes. Choosing the right local bank for you before moving overseas will make this process much easier. Some banks will only let you open an account if you have a permanent address in the new location. Organize all the documents you need to open an account so that you can get this sorted as soon as you get there.
Secure Temporary/ Permanent Accomodation
Start looking at properties to rent or buy in your destination country. If you're looking to buy a home, it is worth considering short term rentals or Airbnb the first couple of weeks or months you'll be house hunting. Some letting agents are happy to organise virtual viewings. You might have to pay a small deposit to secure the apartment and can choose to finalise the paperwork on arrival.
The costs of housing will depend on the area you choose. Housing costs in big cities can be really high with small living spaces. Not to mention overcrowding, traffic and pollution. Explore more affordable locations outside of the big cities that fits your needs and budget.
Plan means of Transportation
Determine the most convenient and affordable mode of transportation for you in your destination country. If you plan to drive, find out the process of getting an international driving permit. Some countries will allow you to drive with an international drivers permit for 3 months. Giving you ample time to take the necessary driving tests before taking to the roads.
What is the common mode of transport in the overseas location you're movng to? For example, in the Netherlands, cycling is a popular mode of transport. It is actually quite common for most people to own more than one bike for several occassions. On the other hand, the UK is very well connected by rail. London residents prefer to commute via the london underground rail network. Also called "the tube".
Make HealthCare Provisions
What healthcare systems are available in the new country? This is an essential item to cross off your checklist when moving abroad. In the event that free healthcare services is only available to citizens and permanent residents, it's important to find private health care insurance that suits your needs.
It is common for health insurance to be offered through an employer. If you are employed, find out from your employer if they provide a group health plan as an employee benefit and what is covered. When shopping for private health insurance, make sure that the policy meets your needs and budget. Check for quotes from various providers using comparison websites to compare cover and costs.