Puff-puffs are deep fried dough balls that are crispy on the outside, nice and fluffy on the inside. They are a popular delicacy in West Africa, Nigeria where I spent most of my childhood. Typically served as a snack at parties and gatherings, puff-puff reignites fond memories of time spent with family and loved ones.
I love that they can be eaten as they are, or dipped and coated in toppings as you would doughnuts. The possibilities are endless! .. Or so I like to think. I like to coat them in cinammon and sugar, my partner and kid loves them drizzled and dipped in milk chocolate. Absolutely delicious!
How to make Puff-Puff
The puff-puff dough is sligthly thicker than a pancake batter. It's important that you place the dough in a warm place until double in size before frying in oil.
I recommend using sunflower oil to fry the batter. The oil temperature should be between 180-200°C or 350-370°F. If the heat is too low, the dough will soak in all the oil and taste greasy. If too hot, then it'll fry too quickly without cooking thoroughly.
The main ingredient that determines whether the puff-puff is a success or not, is the Yeast. I cannot emphasize enough how important it is to use Instant Yeast. Instant Yeast can be mixed directly into dry ingredients without going through a process called Proofing.
However, If you can only get hold of Active Dry Yeast, make sure to proof the yeast first in warm water and a tbsp of Sugar before adding in the remaining ingredients.
How to Proof Active dry yeast:
Add half a cup of lukewarm water to a bowl.
Pour in the dry yeast and a tbsp of Sugar.
Stir until the yeast is dissolved.
Leave to sit for about 5-10 minutes, the yeast will start activate. If the yeast is alive, you'll see some bubbles on the surface.
Mix in the dry ingredients, vanilla extract and another half cup of lukewarm water.
Pro-tips:
When transfering the batter into the hot oil, I like to use a piping bag for ease. You can also use an ice cream scoop. Coat the ice-cream scoop in oil first, scoop out the batter and it'll slide easily off the spoon into the oil. This is my no-mess method.
You'll know the puff-puffs are ready when they're golden and crisp on the outside. As mentioned earlier, you can eat them as they are, dipped in chocolate, or coat in cinammon and sugar. Fill them with jam or cream! Whatever works for you. So yummy, you'll make these over and over again!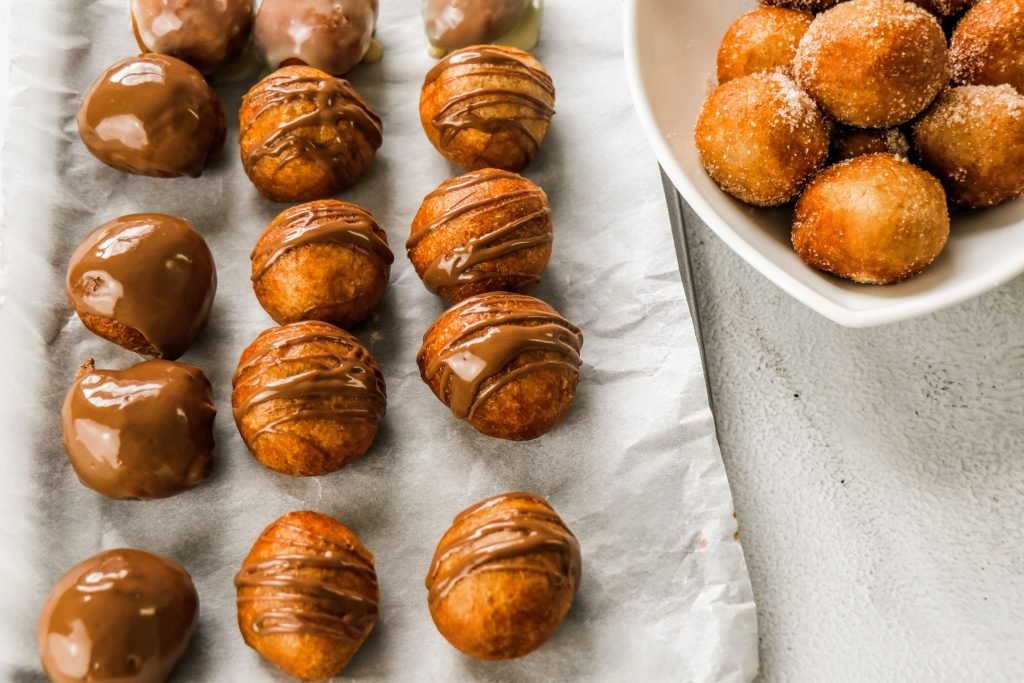 Looking for another quick snack, why not try our Oven Baked Plantains
Puff-Puff | Deep-fried Dough Balls Recipe
Ingredients
3 Cups Plain Flour
7 grams Instant Yeast or Active Dry Yeast
¼ Cup Sugar
1 tsp Salt
1 tbsp Cinammon
1 tbsp Vanilla Extract
1 Cup Lukewarm Water
Sunflower oil for frying
Instructions
In a bowl, whisk together the Flour, Yeast, Salt, Sugar and Cinammon.

Pour in the lukewarm water slowly, mixing until it forms a thick batter

Add in the vanilla extract and stir again to combine

Cover and leave in a warm place, until the dough has risen and is double in size.

Pre-heat the oil in a deep pan on medium heat.

Scoop out little amounts of dough with a spoon or ice-cream scoop into the heated oil

Fry until it's golden brown, turning to make sure all the sides cook evenly.