Jump to Recipe
This Kiwi Banana smoothie has the perfect balance of sweet, sour and nutty flavour. All in one glass. The yoghurt, milk and banana gives it some extra creaminess with just the right amount of sourness from the kiwi. We have experimented with this smoothie several times and have substituted some of the ingredients and it still tastes great.
To save time when making smoothies, cut up the fruits in advance and freeze. I like to make mini ready-to-go smoothie bags with all the fruits i need to make my favourite smoothie recipes. All labelled in the freezer and ready to blend when i'm short on time.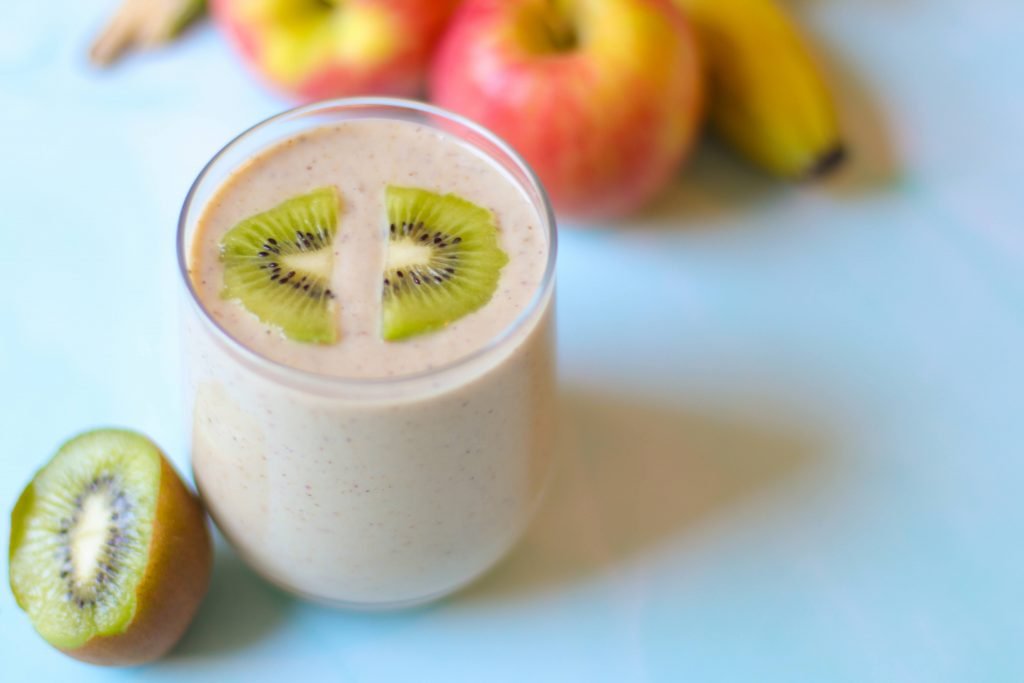 What you'll need:
Banana – I prefer to use frozen bananas in any smoothie. The banana mellows the sourness of the Kiwi without being too overpowering. If you're not a fan of bananas, you can substitute with Pear.
Apple – For some extra sweetness, we've added apples. My favourite apples to use are Gala apples or any other variety of red apples. Green apples would add in more sourness and won't work well in this recipe. Not a fan of apples? Just throw in some more pears.
Kiwi – I'm not a fan of sour fruits, so not a lot of kiwi went into this smoothie. However, if you love sour fruits, feel free to add more in. We blend the kiwi in with the skin on. This is because the Kiwi fruit skin is packed full of nutrients and fibre. It blends well into the smoothie, you won't even notice.
Almond milk – Any Plant milk of choice or simply add in some water to loosen up the kiwi banana smoothie.
Almond Butter -We have substituted with Peanut butter and it tastes delicious. I think any nut butter would work well. Feel free to experiment and let us know what works for you in the comments section.
Looking for more smoothie recipes? Why not try our Blueberry Smoothie Recipe.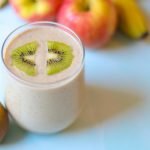 Print Recipe
Servings: 2
Ingredients
1 cup Frozen Banana
⅓ cup Kiwi
½ cup Apples
¼ cup Non Dairy Yoghurt or Greek Yoghurt
¼ cup Almond milk or any plant milk of choice
1 tbsp Almond Butter
Instructions
Chop up the fruits and add to a blender

Pour in the almond milk, almond butter and yoghurt

Blend and Serve immediately

Enjoy!