I am excited to share with you these home décor ideas that won't break the bank, requires no DIY skills and needs little or no tools to setup. Use these 5 easy tips to decorate your living space on a budget.
Having lived in rental properties since moving to the UK, and with sky-high rents and rising cost of living in London and most cities around the world, I understand how important it is to decorate your home on a budget. Besides, I know it can be discouraging trying to style your home knowing you'd have to spend time and money making it right before moving out.
I've put together these easy tips to inspire you to upscale your home décor and create a living space that you love.
1. Peel and stick Wallpapers
These are top on my list and absolute favourite as a quick way to add some colour and character to any wall.
There's a variety of self adhesive wallpapers to choose from on the market and you'll find anything from floral, metallic and geometric patterns, to brick and stone effects and so much more.
Self adhesive wallpapers are known to be the go to choice for renters and homeowners alike, who are looking to decorate with minimal effort. Particularly because no decorating expertise is needed and it requires less tools to install.
The advantage of using self adhesive over traditional wallpapers is that they are super easy to install and saves time since the glue is already applied to the back. It can be easily peeled off the wall and is less than likely to damage the walls when removed. Which makes it perfect for temporary living situations.
How to use on a budget?
Apply to feature walls and wall borders to create a stunning an on-trend living space that truly reflects your personality.
2. Indoor Plants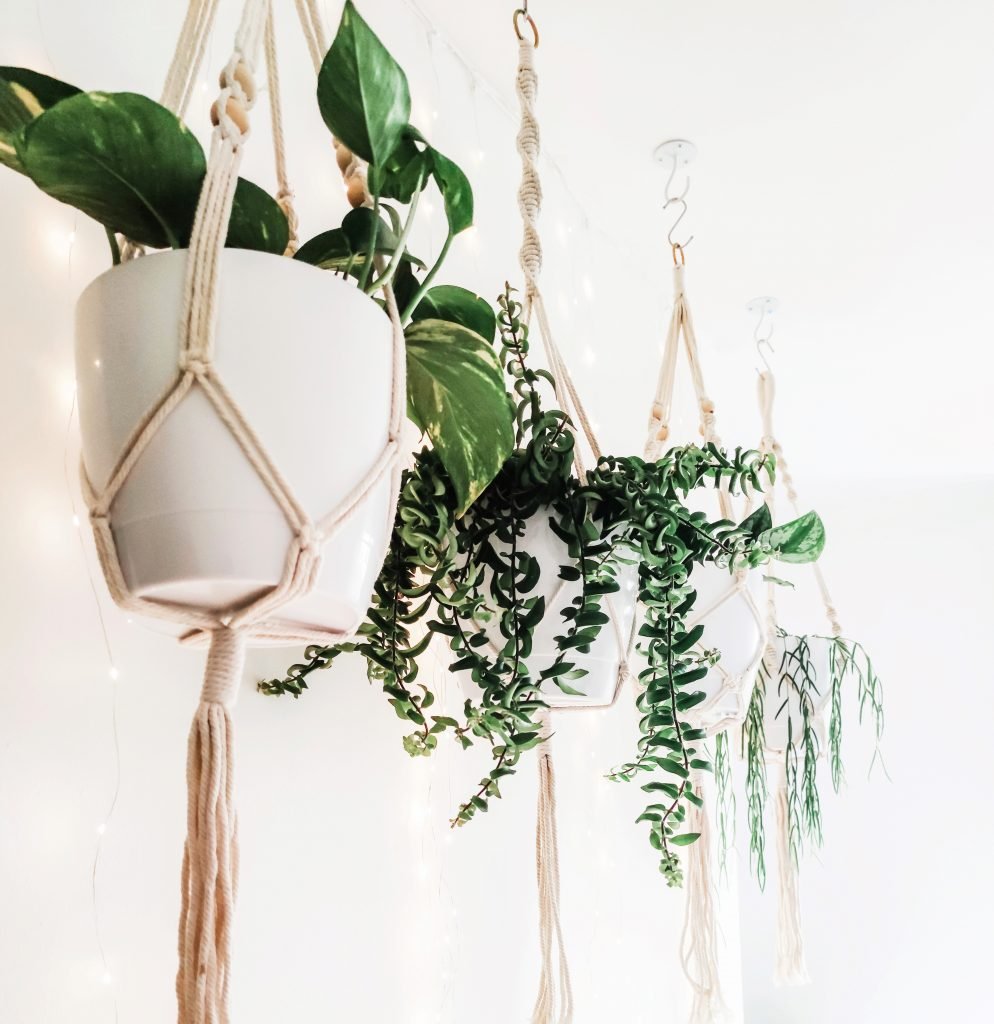 Introducing plants into your home will not only brighten up your living space but also has added benefits. Plants are known to help purify indoor air, boost productivity and reduce stress levels.
Plants are aesthetically pleasing and a budget friendly way to enhance just about any room when decorating. Sometimes free, if you manage to get a few cuttings from established plants. Other ways to upgrade the look is to place plants in a decorative planter to create a feature in your space.
I prefer to hang my plants in Macramé indoor hangers to create a beautiful display. They come in various designs, and you're sure to find one that complements your space. Most importantly, you can stick to your budget and save some money by learning to make one yourself.
3. Mirrors
Mirrors are an absolute must have in every living space. A mirror can be used to add character and interest to a plain wall, and helps create a central focal point in a room.
They are not only practical, but can make a space look brighter and bigger than it is. To distribute light, position mirrors opposite a window or use a collection of smaller mirrors to create a stunning display.
What's more, it's available in a variety of shapes, design and sizes to fit any room and budget. Consider buying pre-owned mirrors to save some money and enhance your home décor on a budget.
4. Floating Shelves
Floating shelves are a budget friendly way to decorate any wall in your home. The hidden brackets and fittings allows you to create a seamless and sleek look. Simply add floating shelves to achieve a modern or minimalist style of décor.
Popular, inexpensive and versatile, you can decorate the shelves with ornaments, frames, plants or a statement piece on a budget. Even better, they serve as additional storage for your living spaces.
5. Wall Art
Styling your home with wall arts can bring a beautiful pop of colour and focal point into your space. It's budget friendly and you can choose to decorate your space with art that expresses your individuality.
There's a huge range of wall arts available to suit your personality and style. Instantly transform your space with framed prints, posters, canvas, plaques or any statement piece of your choice.
Create a stunning gallery wall using a collection of creatively arranged framed prints to instantly transform any space. There are so many options when decorating with wall art on a budget. For instance, you can print and frame your favourite photos or embark on a DIY art project to show off your creative skills. See HOMEBNC's DIY wall art ideas for some inspiration!