Sweet potato Couscous is a firm favourite in my home. The sweet potato is seasoned with mixed spice to complement the sweetness perfectly. Then baked in the oven to help retain some firmness. Mixed spice is typically a blend of cinnamon, nutmeg, cloves, coriander and caraway. Throw in some chickpeas, bell peppers, onions or any other veggies of choice for a healthy and delicious dish.
We tend to eat a lot of rice dishes and couscous has been such a good healthy swap. Lower in carbs and calories when compared to white rice and a very versatile food cupboard staple.
This recipe reminds me of the very first time i tried cooking couscous. It was a complete mess! I poured the uncooked couscous into the pan, stir fried with vegetables and couldn't understand why it kept sticking to the bottom of the pan and burning – facepalm! Silly me, I didn't follow a recipe at the time and found the grains hard and chewy.
Pretty much sums up my first attempt at most things, I jump straight in and research later. I must admit that it did put me off trying couscous again for a while.
Although couscous originates from North Africa, it's not a dish i came across at any time growing up in West Africa. However, i can see why it's a great accompaniment to salads, fish and meat dishes. This Sweet Potato Couscous recipe will make an impressive side dish to grilled meat or as part of a healthy vegetarian spread.
On a side note…
I am really looking forward to the lockdown restrictions being lifted. It would be nice to have family and friends over in the summer for some well deserved barbecue. It's been a tough time guys! I'm sure we all can't wait to be reunited with our loved ones soon to enjoy some great meals together. In the meantime, try this awesome couscous recipe and let me know what you think.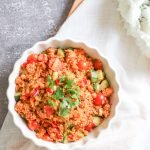 Sweet Potato Couscous Salad
Print Recipe
Ingredients
2 tbsp olive oil (for baking sweet potatoes)
1½ cup Vegetable stock
1 cup Couscous (uncooked)
1 cup Sweet potato (cut in cubes)
½ cup canned chickpeas
½ large yellow onion
½ cup Red Bell peppers
2 tbsp olive oil (for frying vegetables)
2 cloves Minced Garlic or 1 tsp Garlic granules
1 tbsp cumin
To taste Salt
To taste Pepper
1 tbsp Smoked paprika
1 tsp Mixed spice
1 tbsp Suya Spice – substitute for 1 tsp Cayenne pepper
½ cup cucumber
½ cup cherry tomatoes (cut in halves)
1 tbsp dried parsley
Instructions
Bring the vegetable stock to boil, add the couscous and stir a couple of times.

Season with salt and pepper to taste. Set aside.

Preheat your oven. In a bowl, add the sweetpotato with mixed spice, salt to taste and olive oil. Mix well, making sure it's evenly coated.

Spread on an oven tray and let it bake for 20 minutes. Once done, take it out of the oven and set aside to cool.

Add oliveoil to a pan on medium heat, pour in the minced garlic, chopped onions, chickpeas and bell peppers.Stir continously and season with cumin, smoked paprika, Suya spice/ cayenne pepper (for extra heat), and parsley.

Turn off the heat and leave uncovered to cool. Stir in the cooked couscous until combined well.

Then add in the baked sweet potatoes, cucumber and cherry tomatoes.

Garnish with some freshly chopped parsley and serve immediately.
Notes
– To add some protein, substitute the vegetable stock for chicken stock. 
– Then add in diced chicken in step 5, along with the onions and stir fry for 10 minutes until cooked through.