Saturday mornings are an absolute delight in my home. Our dog is constantly trying to squeeze through our bedroom door every morning at about 8am. Happens like clockwork. Whereas our little girl is out of bed at 10am and heading straight for the fridge. We wake up to her placing everything we need to make pancakes on the kitchen counter before we get a chance to say no. Vegan banana pancakes are her favourite.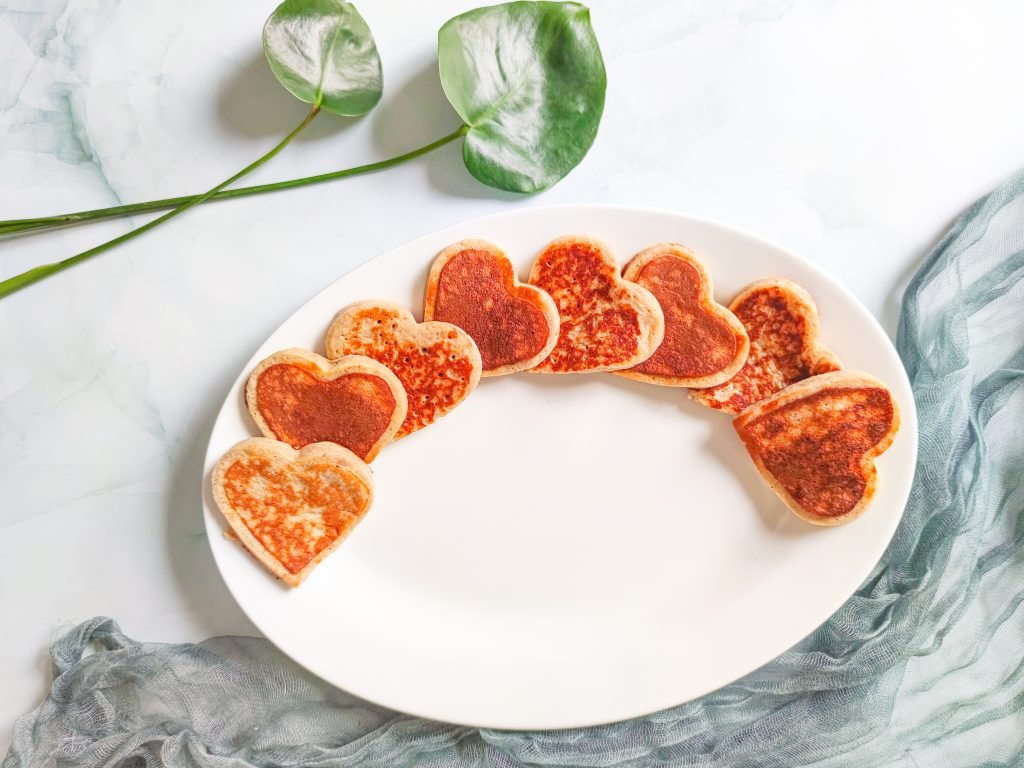 I would eat pancakes everyday if i had the time or energy to make them. My weekdays are pretty busy and I would usually go for porridge or will have some toast and coffee in the mornings before catching up on work meetings and the gazillion other things i need to do.
However, on the weekends, I love to spoil my family with some great tasting healthy pancakes. My daughter finds them super fun to make. To save time, simply whip the ingredients in a blender or food processor and you're good to go.
Vegan Banana Pancakes Main Ingredients:
Oat Flour – This is a really good way to use up rolled oats. Blend rolled oats in a food processor until smooth or use Ready Brek oats. They are 100% super smooth wholegrain oats with no added sugar or salt. This recipe can be made using just Oats flour. If you would like to skip the plain flour, use a cup of Oats flour.
Plain Flour – I use plain flour to help the batter bind better. Feel free to substitute this with a gluten free flour substitute or remove the plain flour altogether. Replace with half a cup of Oats flour.
Plant Based Milk – A couple of options available here. You can choose from Soya milk, coconut milk, Almond milk or Cashew nut milk. My personal preference is cashew milk but i don't often find these at the shops so will usually settle for coconut milk.
Banana – Use a large ripe banana to add some sweetness to the pancake. When i want it sweeter, I add a few tbsp of erythritol sweetener. Erythritol is a sugar alcohol and can cause side effects if used in large quantities.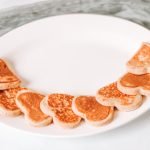 Vegan Banana Pancakes Recipe
Print Recipe
Ingredients
1 Large Ripe Banana
1 cup Plain Flour (125 grams)
½ cup Oat Flour (Blended rolled oats or use Ready Brek)
¾ tsp Baking Powder
250ml Plant based milk of choice
½ tsp Cinammon
1 tbsp Sunflower oil or coconut oil
1 tsp Lemon Juice
Pinch of Salt
Instructions
Mix the dry ingredients (Flour, Blended rolled oats, baking powder and cinammon).

In a mixing bowl, mash the banana with a fork, add in the plant milk, oil and lemon juice.

Add the dry ingrediently gradually into the mixing bowl. Mix together with a whisk until combined.

Heat a little sunflower oil in a frying pan on medium heat. Spoon in the pancake batter and allow to cook on both sides until golden brown.

Serve with maple syrup and choice of fruits.